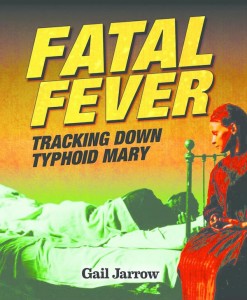 Jarrow, Gail. Fatal Fever: Tracking Down Typhoid Mary. Honesdale, PA: Calkins Creek, 2015. 978-1620915974. 192p. $16.95. Gr. 5 & up.
In 1907, an outbreak of typhoid ripped through New York.  In the process, three monumental people in the middle of the outbreak were brought together.  In this narrative, the lives of George Albert Soper, a typhoid expert, and Sarah Josephine Baker, a doctor working for the New York Department of Health, come barreling into Mary Mallon, an immigrant cook from Ireland.  Mary is one tough lady. Not only does she not succumb to the infectious disease living in her body, but she also runs from the New York City Department of Health when they come knocking on her door. The way she adamantly denies having anything to do with the outbreaks is tenacious.  Mary insists she is innocent and being imprisoned on North Brother Island for no reason.  However, she has shown she will not adhere to the recommendations of the public health officials and resign her position as a cook.  In this nonfiction narrative, readers get primary sources from the time period, a glossary, timelines, and references to the way sanitation played a role in the outbreak.  
Readers will enjoy this page turner about turn of the century overhauls on the way consumers use sanitation and water treatment facilities, and even more, the way waterways are polluted with feces and human waste.  The way in which Jarrow suggests many of the infections could have been prevented just by hand washing makes any reader want to invest in hand sanitizer by the case. The transfer of bacteria and the way human waste traveled to the waterways was almost unbelievable partly because society has evolved so much in the past 100 years in regard to immunizations, hygiene, and sanitation.
614; Disease      Brooke Gerlach, Manheim Central MS
Jarrow, Gail. Fatal Fever: Tracking Down Typhoid Mary. Honesdale, PA: Calkins Creek, 2015. 978-162091-5974 175p. $25.00 Grades 5 and up.
In the early 1900s, typhoid was a dreaded, misunderstood disease. Most people did not understand how it was spread, nor how to prevent its spread by proper hand-washing, especially after toileting and before food handling. One person who certainly did not understand it was "Typhoid Mary," as Mary Mallon, became known. Mallon never exhibited any typhoid symptoms, yet she was tracked down by sanitation engineer and "germ detective" George Roper as being an asymptomatic carrier, having infected dozens, and killed at least one, in her work as a cook. She vociferously, even violently, refused to agree and refused to cooperate. She disappeared, only to reappear on Roper's radar after another outbreak. Here he found that she had actively disobeyed their agreement that she not work as a cook, instead changing her name and finding work as a cook, which was a better-paying position than housekeeping for any immigrant woman. Roper understood the disease, even if Mallon and others did not; Mallon was quarantined on North Brother Island despite her objections. Though Mallon sued for her freedom, she lost, and the island remained her home until her death.
Jarrow follows up her book Red Madness: How a Medical Mystery Changed What We Eat (2014) with this account of Typhoid Mary and the (mis)understandings of the era. A third book in this "series" may follow. Easy to read for middle schoolers, fast-paced enough to keep interest, this is middle school nonfiction at its best. Readers will sympathize with both Mallon and Roper, and the families who struggled with the disease. An excellent, eye-opening book. Author's Note, Further Reading, Timeline, Glossary, Bibliography, Index.
In our school, this book has been read and lauded by adults, but has taken more selling to get into the hands of student readers. The color, photographs, and easy-to-read, wide pages and, above all, the writing, really help to draw in readers. Pair with Jarrow's Red Madness or Bryn Barnard's Outbreak: Plagues That Changed History (2005) as well as Terrible Typhoid Mary: A True Story of the Deadliest Cook in America (2015) by the renowned Susan Campbell Bartoletti. Fabulous reading for science/biology courses, this can also be used as an example of how to weave primary sources into research presentations.
614; Disease     Melissa Scott, Shenango High School