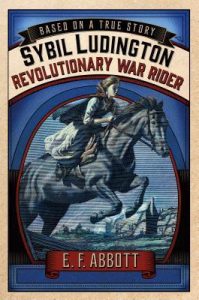 Abbot, E.F. Sybil Ludington: Revolutionary War Rider (Based on a True Story series). New York: Feiwel & Friends, 2016. 978-1-250-06835-4. 192 p. $15.99. Gr. 3-6
Sybil Ludington is part of a spy family during the Revolutionary War. Her father, in charge of a unit of militiamen, needed help with the war effort. Sybil and her sister write notes in code to communicate with other regiments. Her mother and sisters save the house from invasion by outsmarting the British spies. When someone is needed to gather her father's men to fight, sixteen-year-old Sybil braves numerous dangers, riding by herself through the night to sound the alarm. THOUGHTS: A very interesting book about a period in time not many know about. I love the non-fiction aspect of it! There are historical photographs and pictures throughout the book depicting scenes and items (a coal scuttle for example) so the reader is given a better sense of what it was like.
Historical Fiction     Emily Woodward, The Baldwin School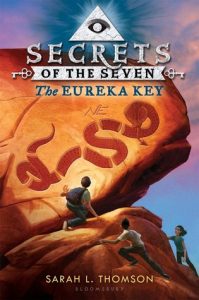 Thomson, Sarah L. Secrets of the Seven: The Eureka Key. New York: Bloomsbury, 2016. 978-1-61963-731-3. 240 p. $16.99. Gr. 5-8.
Middle schooler Sam Solomon is really smart, but really bored. He uses his brains to hack the school bell to play music from his favorite video game, and to access the principal's computer to change his best friends grades. His teachers and parents are worried that this behavior will turn into real trouble. So when Sam wins The American Dream contest and gets to spend the summer on a trip across the country, everyone is hopeful for a positive change. Sam and the other contest winners, brainy Martina and elusive Theo, set off to Death Valley, California, ready to explore seven natural wonders of America. At each stop, the trio will solve puzzles and use clues from the nation's history to find seven piece of a powerful artifact. But at the first stop, things don't go very well, and Sam, Martina and Theo find themselves in the middle of a very powerful mystery. They soon discover that they hold the key to unlocking a secret from America's past, and that there are people out there that will do dangerous things to keep it a secret. THOUGHTS: A fun, approachable read for fans of any Rick Riordan book or the National Treasure movies.
Adventure     Vicki Schwoebel, Friends' Central School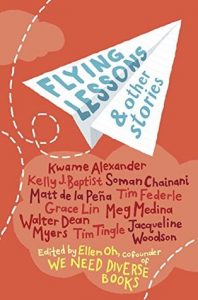 Oh, Ellen Ed. Flying Lesson & Other Stories. New York, NY: Crown Books, 2017. 978-1-101-93459-3. 216 pp. $16.99. Gr. 4-8.
As the cry for more diverse books in children's literature starts to see results, this collection of short stories edited by Ellen Oh, cofounder of We Need Diverse Books, should gain prominent attention as an exemplary work. The ten short stories capture important and ordinary moments of youth across the country, allowing the reader to hopefully see themselves as well as the lives of other ethnicities and viewpoints. From Matt de la Pena's hoop obsessed teen to a poor struggling obedient son from Kelly Baptist to Tim Federle's slightly neurotic and obsessed girl facing a secret Santa dilemma, each story is immediate, empathetic, and engaging. Other distinguished authors include Jacqueline Woodson, Kwame Alexander, and Grace Lin. As Oh says in her foreward, "… our stories are unique, just like we are." With inspiration and a closing sample from Walter Dean Myers, we have a warm and readable look into the many lives whose stories are diverse yet connected, often through the power of books.  THOUGHTS: Great for both read alouds and ideas for writing prompts, I would recommend this book to classroom teachers who want to show perspective and point of view. Plus, hopefully, it will open the readers to new ways of understanding and valuing each other.
Realistic Fiction; Short Stories     Dustin Brackbill, State College Area School District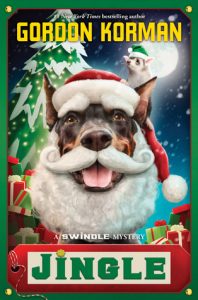 Korman, Gordon. Jingle (A Swindle Mystery). New York: Scholastic Press, 2016. 978-0-545-86142-7. $16.99. 199 pp. Gr. 3-7.
Griffin Bing, Ben Slovak, and their crew are back at it in Jingle, a Christmas themed Swindle mystery.  After receiving letters thanking them for volunteering for the Colchester family's Santa's Workshop Holiday Spectacular, an annual holiday event presented by the wealthy Colchester family for the town of Cedarville, Griffin, Ben, and the gang are horrified that their holiday and winter break plans have been ruined, and it's all Logan's fault.  Facing the daily misery of dressing like an elf and working with their nemesis, Darren Vader, the group determines this will be the worst Christmas ever; of course that is until the prize of the the spectacular, the Star of Prague, goes missing, and Griffin, Ben, and their friends become prime suspects.   Going from elf to robbery suspect doesn't exactly make for the best break ever, but it does allow Griffin to get back to his "plans".   Knowing that this time they aren't to blame, the friends set out to clear their names and figure out who really stole the Star of Prague.  Of course, they get arrested and into their own trouble along the way (what's a tiny bar fight when you're in middle school), and have to deal with their own personal (Logan not getting into the North Star Players) and family (Hanukkah vs. Christmas) problems.  THOUGHTS:  This was my first Swindle mystery and was very easy to understand even though I hadn't read the previous seven titles.  This is a fun, fast-paced mystery for upper elementary and middle school students.  The interaction of the friends is both a great example of friendship and a lesson in when to say no or question "the plan".  Gordon Korman once again delivers a winner.
Mystery     Erin Parkinson, Beaver Area MS/HS