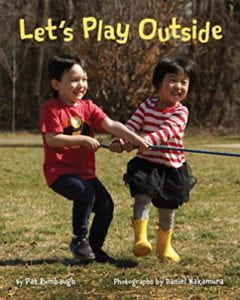 Rumbaugh, Pat. Let's Play Outside. Star Bright Books, 2021. Unpaged. 978-1-59572-919-4. $6.99. Grades K-2.
Let's Play Outside is a fun fiction book that focuses on all the fun things that children can do when they are outside. The descriptions are paired with action photographs that show what is being described. The end of the book has information for caregivers and parents on different things they can do with their children outside. There are also tips for fitting in time to play as well as suggestions on where children can play.
THOUGHTS: This is an adorable fiction book about playing outside that students will enjoy looking through, and parents/caregivers can appreciate giving them ideas of new things to do outside. There is also a mention of the website Let's Play America at the end, which is a great resource for information outside this book.
Picture Book          Mary Hyson, Lehigh Valley Regional Charter Academy