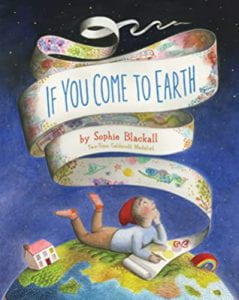 Blackall, Sophie. If You Come to Earth. Chronicle Books, 2020. 978-1-452-13779-7. Unpaged. $18.99. PreK-2.
A young narrator writes a letter to an alien, detailing what life is like on our planet. He explains our housing, clothing, family life, means of transportation, work, recreation, food, animals, and more. He highlights the fact that everyone is different, but we are all better off when we are kind to one another. Stunning illustrations accompany this delightful portrait of our beautiful Earth.
THOUGHTS: I am absolutely loving this breathtaking celebration of diversity on our planet. The gorgeous illustrations depict people of all sizes and colors, as well as many different kinds of houses, families, food, jobs, and clothing. Students and adults alike could spend hours poring over the illustrations, prompting important discussions about how we are all created different but equal. There is also much to be learned about cultures other than our own, and this could be an excellent starting point for such a research project. This very timely call for unity on our planet is sure to resonate with readers of all ages.
Picture Book          Julie Ritter, PSLA Member
A daydreaming child named Quinn writes an extensive letter to a "visitor from Outer Space" which includes everything from Earth's location in the solar system to differences between humans. Blackall's Chinese ink and watercolor illustrations provide depth and detail to the story as Quinn explains the dizzying array of options for life on Earth. Differences are emphasized. In one spread, a wide variety of dwellings from tall apartment buildings to tree houses are depicted alongside a simple sentence stating "we live in all kinds of homes." A group of people whose homes have been lost to disaster are also included. Transportation, clothing, and food are similarly treated. One spread explains thoughts cannot be seen but feelings may be worn on faces with an array of portraits demonstrating emotion. Communication, including Braille and Sign Language is mentioned along with music and soundwaves. Opposite concepts such as large and small along with natural vs. artificial are addressed. Injuries and illnesses, war, and aging are also briefly touched upon in age-appropriate context.
THOUGHTS: It's nearly impossible to list all of the topics covered in this picture book. There are so many details in the illustrations that this is likely to be one that can be enjoyed repeatedly.
Picture Book          Jackie Fulton, Mt. Lebanon SD