Clanton, Ben. Super Narwhal and Jelly Jolt. Tundra Books, 2017. 978-1-101-91829-6. 64 p. $12.99. Gr. K-3.
Narwhal and Jelly return for more undersea fun, this time as superheroes! Super Narwhal and his trusty sidekick Jelly Jolt have super outfits, super names, super secret identities, and superpowers…well, Jelly Jolt has a superpower (that nasty jolt felt by beachgoers everywhere), but Super Narwhal isn't quite sure about his super ability. In true Narwhal style, his optimistic attitude wins the day. It turns out that his superpower is the power to "bring out the super in others!" Ben Clanton's new easy graphic novel series is packed with humor, fun characters, and waffles (Narwhal and Jelly's favorite food, of course).  His style is great for beginning graphic novel readers–a lot of the story is told in full-page panels rather than many panels on one page, making it an easy read. THOUGHTS: Funny and likeable, Narwhal and Jelly are new super stars in the graphic novel world. A great choice for most kids.
Graphic Novel       Lindsey Long, Lower Dauphin School District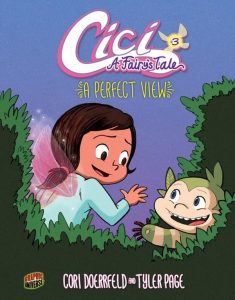 Doerrfield, Cori. Cici #3, A Fairy's Tale: A Perfect View. Graphic Universe, 2017. 978-1-4677-6154-3. 47 p. $20.00. Gr. K-3.
Cici learned on her 10th birthday that she is a fairy, and now her world's turned upside down! Her abuela, also a fairy, is helping Cici learn how to navigate the world now that her "sight" is a bit different. For example, she now sees her mom as an octopus with many tentacles! Cici is planning her annual camping trip with her dad and younger sister; she's excited to swim in the lake, hike in the woods, roast marshmallows, and share the fun with her friend Kendra. Abuela warns Cici that nature has powerful magic and that she needs to be prepared, but Cici is armed with bug spray and a sleeping bag, which she thinks is all the preparation she needs. When they arrive at the campsite, one thing after another goes wrong for Cici. Kendra and Cici's family enjoy every minute of the trip, but Cici has a hard time coping with all the changes, including the addition of a mysterious creature who keeps popping up in the woods asking to be her friend. In the end, with the help of the mysterious forest sprites, Cici realizes that she can still enjoy the magic of nature and the trip, even if it's different than she planned.  THOUGHTS: With bright illustrations and a likeable main character, this story will be popular with existing fans of the series and new readers alike.
Graphic Novel          Lindsey Long, Lower Dauphin School District