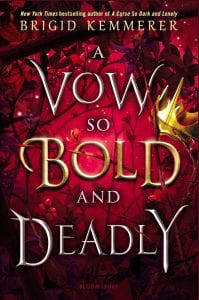 Kemmerer, Brigid. A Vow So Bold and Deadly. Bloomsbury YA, 2021. 978-1-547-60258-2. 408 p. $18.99. Grades 9 and up.
A Vow So Bold and Deadly picks up right where the previous book left off, with Emberfall in chaos and Prince Rhen pushing everyone away. In Syhl Shallow, Lia Mara is trying to hold onto her kingdom using kindness and compassion, when her subjects are used to fear and intimidation. As the two sides race towards the deadline Grey has set for Prince Rhen, a deadly enemy has reappeared and no one is safe.
THOUGHTS: This was a thrilling conclusion to a great young adult fantasy series (Cursebreakers)! I adored the first two books in this series, and was so excited for the conclusion. I loved how Harper has been portrayed throughout this whole series, and she definitely ended up being my favorite character from the series.
Fantasy          Mary Hyson, Lehigh Valley Regional Charter Academy