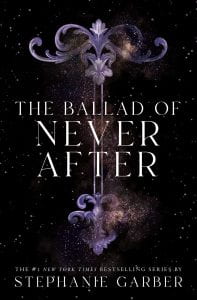 Garber, Stephanie. The Ballad of Never After. Hodder and Stoughton, 2022. 978-1-250-87543-3. 403 pg. $19.99. Grades 10-12.
The Ballad of Never After starts right after the events of the first book, bringing the reader along with Evangeline after she was betrayed by the Prince of Hearts. Evangeline still has the issue of her true love, Apollo, being cursed and now it seems that the curse is affecting her as well. In order to break this curse, Evangeline finds herself working with Jacks, the Prince of Hearts, against her better judgment. Will she be able to break the curse before it kills her? Evangeline always has been able to follow her heart, but this time it might lead her into the wrong arms.

THOUGHTS: This series is super easy to follow and isn't extremely fantasy heavy, which makes it a great series for readers who aren't into heavier fantasy reads. There is a lot of romance found within both books. There also are some spicy scenes, so this would be more appropriate for higher high school grades.  
Fantasy          Mary McEndree, Lehigh Valley Regional Charter Academy
Romance