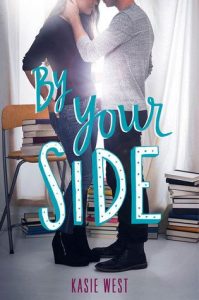 West, Kasie. By Your Side. Harper Teen, 2017. 978-0-06245-586-4. 352p. $9.99. Gr. 6-12.
When Autumn finds herself accidentally locked in the library for the weekend (she's in the restroom when the library closes, and she doesn't have her phone with her), she's pretty upset. And then, she realizes she's not the only person locked in the library. Dax Miller is also there. She doesn't know much about Dax, except that he's a loner and rumor has it he spent some time in juvie. Forced to spend hours with each other, the two begin to open up – Dax about his life in foster care and Autumn about her secret struggle with anxiety disorder. When the two get out of the library, Autumn is shocked to find out that her family and friends thought she was in a car accident involving one of her friends. Feeling stressed, Autumn leans on Dax for support. But can their tenuous friendship survive outside the after hours world of the library? THOUGHTS: While By Your Side is predictable is some aspects, West's characterizations of Autumn and Dax elevate the novel above traditional romantic fare. Autumn's struggles with stress and her anxiety disorder are deftly handled and not glossed over. Likewise, Dax's fear of commitment and forming connections are realistically integrated within the overall plot. Recommended for middle school and high school readers.
Realistic Fiction      Elizabeth Henry, Lampeter-Strasburg School District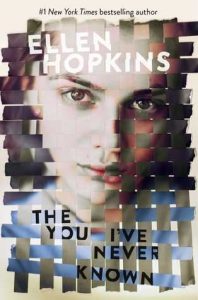 Hopkins, Ellen. The You I've Never Known. Margaret K. McElderry Books, 2017. 978-1-4814-4290-9. 590 pp. $18.99. Gr. 9 and up.
Ariel Pearson and her father have always moved around a lot. Ever since her mother abandoned them, it's just been Ariel and her dad against the world. But after a few months in Sonora, California, Ariel wants to stay. She's a member of the basketball team; she likes her dad's new girlfriend Zelda, and she has some new friends. Ariel has romantic feelings for one of these friends, Monica, who reciprocates her feelings but doesn't pressure her. Things get complicated when Zelda's dreamy nephew, Gabe, arrives in town and shows a keen attraction to Ariel, an attraction she also feels. Things come to a boil as Ariel's father becomes more volatile, possessive, and even abusive toward her. Ellen Hopkins' signature chapters-in-verse alternate with prose chapters from the point of view of a young woman in Texas named Maya, who gets pregnant and drops out of high school to marry an older career soldier. Readers may intuit Maya's relationship to Ariel before the reveal, but this emotionally resonant narrative will hold their interest throughout. Ariel's exploration of her bisexuality is skillfully portrayed and a needed addition to the coming-of-age experience in YA fiction. THOUGHTS: It's not quite Crank, but it's well worth reading and sharing with teens.
Realistic Fiction (Novel-in-Verse)     Amy V. Pickett, Ridley School District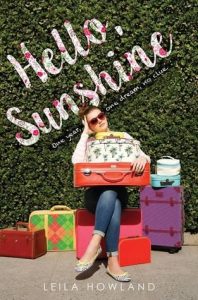 Howland, Leila. Hello, Sunshine. Hyperion, 2017. 978-1-4847-2545-0. 368 pp. $17.99. Gr. 9 and up.
Leila Howland charms with this depiction of one aspiring actress's quest to realize her dreams! Boston girl Becca Harrington is crushed when she's not accepted at even one of the eleven colleges where she applied. Since her boyfriend is off to Stanford, she decides to road trip cross-country with him to Los Angeles, giving herself one year to become a working actress. Unfortunately, Alex breaks up with her just as they pull up to their destination. Heartbroken but resilient, Becca makes a list of her goals and sets out to achieve them one by one. Get curtains and a kitchen table? Done. Get a part-time job and make a friend? Done, thanks to sweetly supportive neighbors Raj and Marisol. Getting an agent might take a little longer, and getting Alex back might be trickier still. After all, odds for success are long even for a fresh-faced ingenue! Becca's adventures and missteps will delight readers, and her independence is really inspiring. THOUGHTS: This fun, breezy read perfectly fills the void between high school and college, in the tradition of Roomies by Tara Altebrando and Sara Zarr.
Realistic Fiction    Amy V. Pickett, Ridley School District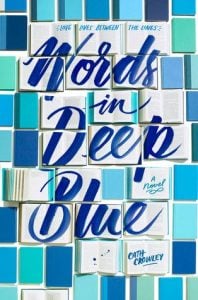 Crowley, Cath. Words in Deep Blue. Knopf Books for Young Readers, 2017. 978-1-101-93764-8. 288 p. $17.99. Gr. 9 and up.  
Rachel and Henry were the best of friends until three years ago. On the eve of her move to the Australian coast, Rachel left Henry a letter that declared her love for him and told him to call, no matter what time. Henry never called. Instead, he fell in love with Amy.
Fast-forward three years. Heartbroken in their own ways, Rachel and Henry meet back up when Rachel returns to the city for a distraction from her grief over her brother's death. They reconnect in Henry's family's adorable secondhand bookshop, Howling Books. While Rachel catalogs the Letter Library, a room in the bookshop where visitors may leave markings, notes, or letters within the pages of a book, Henry tries to help her heal by writing letters to her.
Narrated by Rachel and Henry and interspersed with letters and notes from the Letter Library, Crowley expertly writes about grief and missed opportunities. THOUGHTS: At its heart, Words in Deep Blue is about second chances – in life, friendship, and love – and learning how to move forward when living seems impossible.
Realistic Fiction    Maryalice Bond, South Middleton School District