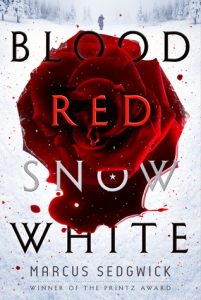 Sedgwick, Marcus. Blood Red, Snow White . New York: Roaring Book Press, 2016. 978-1626725478. 320 p. $17.99. Gr. 7 and up.
Historical fiction novel about the experiences of author Arthur Ransome during his years in Russia at the time of the Revolution. Ransome gained fame early in life with Old Peter's Russian Tales, his classic collection of children's stories. Blood Red, Snow White explores Ransome's life after he leaves his wife and child in Britain and relocates to Russia to work as a journalist as the Russian Empire under tsarist rule is about to collapse. Interwoven with elements found in his fairy tales, the story follows Ransome who finds himself as a player in the drawn out history of the rise and decline of the idealistic but fatally flawed revolutionaries. While in St. Petersburg, he meets Evgenia, Trotsky's secretary and begins the romance of his life.  As the revolution turns darker and loyalties are questions and tested, Ransome hopes to leave his beloved adopted country with Evgenia and find their way to safety. The story starts strong with the magical quality of the fairy tale which gives way as the book continues to more harsh realities on the war and revolution. This imaginative, beautifully written and well researched tale brings life to an interesting time period in history. THOUGHTS: Not for every teen reader, but the more thoughtful fans of historical fiction and literary YA may be the best audience for this title. Adult readers with an interest in historical fiction would also enjoy it. This would make an excellent choice for supplemental reading as a literature connection to European History.
Historical Fiction                  Nancy Summers, Abington Senior High School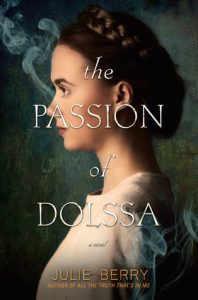 Berry, Julie. The Passion of Dolssa. New York: Viking, 2016. 978-0-451-46992-2. 478 p.  $18.99. Gr. 9 and up.
In 13th century France, Botille and her sisters live and work in the seaside town of Bajas; Botille as a matchmaker; Sazia as a fortune teller, and Plazensa as a tavern keeper.  In nearby Tolosa, a young girl named Dolssa is an accused heretic who is sentenced to be burned at the stake, but miraculously escapes.  When Botille and Dolssa's paths collide, the two form an unlikely friendship, and Botille shelters Dolssa despite the dangers of becoming involved with a heretic during the Inquisition.  Throughout the novel, which is told in alternating perspectives, Friar Lucien de Saint-Honore continues to hunt Dolssa down, adding an element of suspense to the story.  Fans of historical fiction will thoroughly enjoy this title, as Berry has done an excellent job of painting a picture of day-to-day life in medieval France.  The bond between Botille and Dolssa, as well as their courageous spirits, will also inspire readers. This is a worthwhile addition to any high school collection.  THOUGHTS: Outstanding historical fiction set during the Inquisition is lacking, and this title serves to fill that gap. The extensive back matter, which includes a glossary, author's historical note, additional readings, and bibliography, is an added bonus.  Despite its length, the short chapters, alternating perspectives, and fast-moving plot make this a relatively quick read.  This would be a wonderful supplement to any course that covers medieval Europe during the Inquisition.
Historical Fiction          Julie Ritter, Montoursville Area High School​