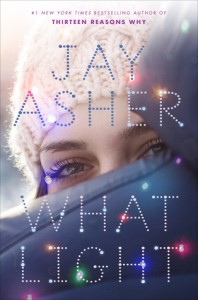 Asher, Jay. What Light. New York: Razorbill, 2016.  978-159514-5512. $18.99. 251 pp. Gr.  7-12.
Sierra loves her life but is between two worlds.  For most of the year she lives in Oregon on her family's tree farm, but each year in the pre-Christmas season, her family moves to California to work on their tree lot.  Sierra loves the work and loves that her family embraces everything Christmas; no jadedness or blasé attitudes here.  However, each year it's hard to leave behind friends, and this year her parents have come clean with the fact that individual sales are down, and they may close the California lot after this season.  And so, Sierra knows that starting a relationship with a boy in California would be foolish; she'll be gone and maybe never return.  Enter Caleb.  After several visits to her family's tree lot, Caleb clearly is interested.  Sierra is drawn to him, and his choice to buy trees to surprise families in need, but her friend warns her of a violent act in his past.  She tries to keep her distance, but also tries to find out how a "violent" boy description squares with the kind Caleb she's getting to know.  Soon, they're both head over heels in love, and run into problems from the past and present.  THOUGHTS: This winter romance delivers light PG-related content.  Asher pricked our guilty consciences with Thirteen Reasons Why.  In What Light, he shines only a pale, predictable light on forgiveness and judging others. Drink with a peppermint mocha.  Suitable for grades 7-12.
Romance         Melissa Scott, Shenango High School

Reed, Jaime. Keep Me In Mind.  New York: Point, 2016. 978-0-545-88381-8. 329 p. $17.99. Gr. 8 and up.
When Ellia Dawson has an accident and suffers a head injury, her memory of the past two years is erased.  While she can remember her family and her best friend, she does not remember her boyfriend, Liam McPherson.  Liam, on the other hand, is still crazy about Ellia and would do anything in his power to bring her memory back.  He turns to writing to document their love story, and the author presents bits and pieces of his narrative throughout the story.  Chapters alternate between Liam's perspective and Ellia's perspective as the two work to overcome the obstacles associated with memory loss and rebuild their relationship.  A well-written story of teenage love and self-discovery. THOUGHTS: This title is remarkable in that it profiles an interracial relationship; Liam is white, and Ellia is black.  Although there is some tension between their families, the fact that they come from different backgrounds does not even phase Liam or Ellia.  Recommend this book to fans of romantic movies about memory loss, such as The Notebook or 50 First Dates.
Realistic Fiction         Julie Ritter, Montoursville Area High School​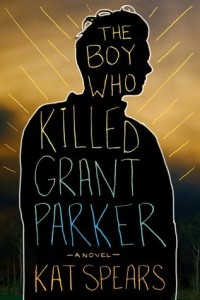 Spears, Kat. The Boy Who Killed Grant Parker: A Novel . New York: St. Martin's Griffin, 2016. 978-1250088864. 320pp. $18.99. Gr. 8 and up.
After a series of pranks and misbehaviors, high school senior Luke is sent away by his mother to live with his father, a Baptist minister in a conservative town in Tennessee.  Luke immediately gets the attention of just about everyone in town, and the principal and the police chief are particularly suspicious of him. As the school year begins he struggles to find his spot on the social ladder and initially ends up with the outcasts. But before long, the school golden boy, Grant Parker, targets him for some old fashioned bullying.  A freak accident occurs and almost immediately Luke goes from bullied loser to boy of the hour with everyone now looking up to him to take Grant's place on the high school social scene. Told in the first person with a male POV, the book delves into the social hierarchies in high school. Luke is at first an interesting and complex character, but after the pivotal incident his character loses his edgy voice as he blithely goes along with the crowd in his new found popularity.  Luke begins to take on more of Grant's mean streak and he starts to lose himself and his true friends as he tries to fit in with the popular crowd. THOUGHTS: This novel is a fine realistic fiction quick pick for reluctant readers, but in the end leaves some questions and issues unresolved. I was hoping for a stronger and more insightful resolution to Luke's change in status and attitude. Some of the situations in the novel are a bit implausible and many of the secondary characters could be fleshed out beyond stereotypes.  A quick read that brushes on some important issues such as bullying and conformity.
Realistic Fiction       Nancy Summers, Abington SHS