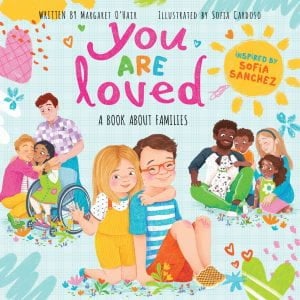 O'Hair, Margaret. You Are Loved: A Book About Families. Scholastic, 2023. 978-1-338-85007-9. 36 p. $18.99. Grades K-3. 
The idea of families coming in all shapes, sizes, and combinations is beautifully celebrated in this inclusive picture book. This title is inspired by Down syndrome advocate Sofia Sanchez, and the story begins with an introduction to her multicultural adoptive family. Readers also learn that love holds families together, and no two families look the same. Families can be loud or quiet, big or small, similar looking or not, and family members might all live together or be spread throughout the world. Vibrant illustrations feature people of all races, religions, abilities, genders, and ages. Backmatter includes a note from Sofia Sanchez's mother explaining how Sofia's adoption completed their family. 
THOUGHTS: The important ideas of family loving you just the way you are and families being made of people who care for you no matter what take center stage in this uplifting book. The text also touches on the idea of people in a school and community caring about you and being part of your family too. This is a valuable addition to library collections and should also be shared with school counselors. 
Picture Book