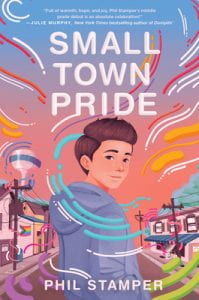 Stamper, Phil.  Small Town Pride. Harper, 2023. 978-0-063-11878-2. 260 p. $16.99. Grades 5-8.
Jake is adjusting to being his school's first openly gay kid, but it's not easy. His family and friends have been accepting but not everyone in the small Ohio town he lives in feels the same. The book starts with Jake coming home to an obscenely large pride flag hanging outside his house…his house across the street from the mayor's house. People in town begin to be concerned that this could lead to a pride parade. Which causes Jake to think…why not? The main problem is that they would have to get approval from the town council and the mayor. Will Jake and his friends be able to convince people that a Pride celebration is an awesome idea? Why is Brett, the mayor's son, spending so much time with Jake and his friends?
THOUGHTS: This was a wonderful story about standing up for yourself and what that can look like for an individual person. Highly recommended for any middle school collection.
Realistic Fiction          Mary McEndree, Lehigh Valley Regional Charter Academy