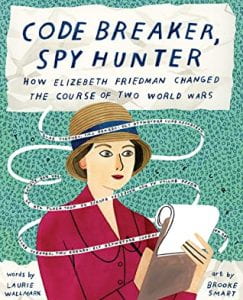 Wallmark, Laurie. Code Breaker, Spy Hunter: How Elizebeth Friedman Changed the Course of Two World Wars. Illustrated by Brooke Smart. Abrams Books for Young Readers, 2021. Unpaged. 978-1-419-73963-7 $18.99 Grades 3-6. 
"A cryptoanalyst is a person who analyzes and reads secret communications without the knowledge of the system used." Elizebeth Smith Friedman, born in 1982 in Indiana, became a relied-upon, yet secret, cryptography expert who helped the U.S. government to intercept coded messages during two world wars, and helped to identify and send thirty-three German spies to prison in "the greatest spy roundup in American history." She never spoke of her work, classified as "Top Secret Ultra," and most was not known until declassified in 2015. Wallmark, with Smart's well-matched illustrations, follows Friedman's story from childhood, to education to first job, to marriage, to secret work. Friedman was repeatedly requested for the most difficult code-breaking, and often testified in criminal cases, demonstrating her code-breaking when needed. In one case, she decoded two years of backlogged messages in her first three months of work. Friedman created the first code-breaking unit for the OSS–Office of Strategic Services, now known as the CIA–Central Intelligence Agency. In at least one major case, another person earned the honor for her work. But Friedman's work helped the U.S. in two world wars and can be well-recognized today.
THOUGHTS: This book is an excellent addition to World War II units and will inspire readers to learn more about code-making and code-breaking.
Biography          Melissa Scott, Shenango Area SD