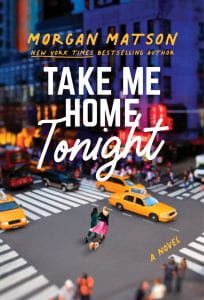 Matson, Morgan. Take Me Home Tonight. Simon & Schuster, 2021. 978-1-481-49898-2. $18.99. 405 p. Grades 9 and up.
Dubbed Ferris Bueller's Day Off meets The Babysitter's Club by the author herself, Take Me Home Tonight is a 12-hour romp through New York City filled with mishaps around every corner. Best friends and theater kids Kat and Stevie just want theater director Mr. Campbell to post the cast list for the first production of their senior year when he unexpectedly decides he needs another weekend to finalize the cast. Then, Stevie's dad predictably backs out of her birthday dinner plans. Kat tries to cheer up her disappointed best friend and fix this frustrating Friday (in more ways than one, unbeknownst to Stevie) by deciding that she and Stevie sneak into New York City and take the dinner reservation instead of Stevie taking her mom like her dad suggested. (They'll also go see Mr. Campbell's play while they're there, though Kat doesn't tell Stevie about that part at first). The girls devise an elaborate plan, using their friend Teri as a cover, and leave their suburban Connecticut town for an adventure in the Big Apple. Secrets, step siblings, a destroyed cell phone, and a really charismatic dog get in the way though. Will their friendship survive the night?
THOUGHTS: There is something – which I can't put into words –  about a Morgan Matson book that just feels a notch above the rest. Readers can always count on certain elements in her books, and this one is no different – there is a trip, a dog, some romance, and of course, the "Easter Egg" characters that pop in from her previous books (mini-spoiler alert: there are SEVERAL previous characters in this one, and they play slightly bigger roles than usual!). And there's some surprisingly fun action in this one, too, a bit of a departure from the author's norm. This comedy of errors is a must-have for your YA contemporary collection, especially if you have any other Matson books.
Realistic Fiction         Sarah Strouse, Nazareth Area SD