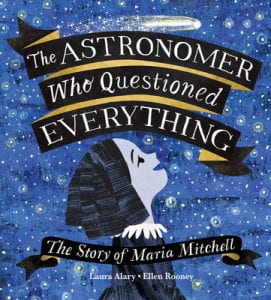 Alary, Laura. The Astronomer Who Questioned Everything: The Story of Maria Mitchell. Kids Can Press, 2022. Unpaged.  978-1-525-30348-7. $18.99.  Grades K-3.
This picture book biography is the story of a female pioneer in the fields of both astronomy and education. Maria Mitchell was born on Nantucket Island in 1818. Her father was an astronomer/mathematician and her mother a librarian. As Quakers, they believed in the equality of all people and so they encouraged their daughter's quest for knowledge.  Maria's father taught the young girl how to use and repair a telescope and nautical instruments. She recorded all her observations in a notebook. As a young woman, she opened a school for the island children and then became a librarian. One day Maria learned that the King of Denmark was offering a prize for the first person to find a new comet. The young astronomer spent hours on the roof searching the skies with her telescope and her perseverance paid off when she sighted one. Maria left for Europe, where she received many accolades and gave lectures to scientific societies. Vassar, a new women's college, offered her the position of Professor of Astronomy and she accepted. At that time, some opposed college education for women, but Maria was not deterred. She took her students outside to observe the stars and encouraged them to question everything. In the author's note, Alary provides more details about Mitchell's life and points out that she was a "woman of firsts"- first female astronomer, scientific consultant hired by the US government, and among the first college professors. Rooney's artwork is done in collage and has amazing detail.
THOUGHTS: Young inquiring minds will enjoy reading about this scientist who faced challenges and never stopped asking questions. Perfect as a read aloud and for STEM units. This is a must-have for elementary collections.
Biography          Denise Medwick, Retired, PSLA Member
92, 921, 520.92