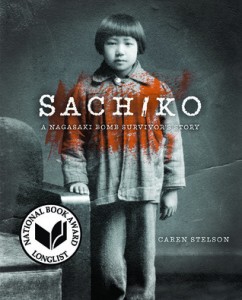 Stelson, Caren. Sachiko: A Nagasaki Bomb Survivor's Story. New York: Carolrhoda Books, 2016. 978-146788-9035. $19.99. 144pp. Gr. 5-8.
Sachiko Yasui holds memories of her close, loving family.  She also holds memories of a desperate war that turned horrific.  She lived with her family: mother, father, older brothers Aki and Ichiro, younger sister Misa, and youngest (doted upon) brother Toshi.  The war had taken its toll on Japan and food for everyone was scarce.  Urging her children to not waste a bit of food or drink, her mother would say, "Every sip is precious."  When Sachiko's father was drafted into the Japanese army, the family chose to return with him to Nagasaki.  It was a fateful decision, for soon thereafter the U.S. dropped atomic bombs on Hiroshima then Nagasaki.  Sachiko survived to watch her siblings die, each in a different manner, each due to the effects of the bomb.  She endured thyroid cancer treatments and fought back for her physical ability to speak, learning that "every word is precious."  This is her story, told in affecting detail, of the bombing and the aftermath.  Despite the horror, this story is un-put-downable and ultimately overflowing with a message of peace and understanding.  Over a lifetime of questioning and forming her own perspective on the bombings (informed by the teachings of Gandhi, Helen Keller and Martin Luther King, Jr), Sachiko finally has spoken to many about these events, always urging an end to hatred and war.  "Every word is precious." Well-documented and complete with end notes, glossary, and an author's note.  THOUGHTS: This is a book to promote peace.  It would pair well with John Hersey's Hiroshima.
940.54 World War II      Melissa Scott, Shenango High School

Reed, MK. Dinosaurs: Fossils and Feathers. New York: First Second, 2016. 978-1-62672-144-9. $19.99. Gr 6-12.
Science Comics second graphic novel is an excellent addition to the colorful, descriptive Coral Reefs comic published earlier this year. This volume explores the complex history of dinosaurs in beautiful color illustrations and an easy to read narrative that will appeal most to middle grade readers. The story begins with the history of paleontology, dating back to the discovery of many dinosaur bones during the Industrial Revolution. The scientific rivalries are dramatic enough to keep readers entertained, while the emergence of natural sciences as a discipline will ruminate with those studying the field. Readers will find various bits of trivia spread throughout the book, such as: how dinosaurs are named, where fossils are found, and much more. THOUGHTS: Use this graphic novel and the rest of the Science Comic series to add a fun addition to your nonfiction section; students will enjoy the opportunity to read a comic about science!
567.9; Dinosaurs      Vicki Schwoebel, Friends' Central School
We have an 8th grade science class come in the library weekly for a sustained silent science reading block, so I have made it my mission to update our science nonfiction and add titles that middle schoolers want to read. I normally book talk a few titles at the beginning of this block, and I always make sure to highlight a variety of books that will appeal to different readers. We had a few nonfiction graphic novels that always seemed to get scooped up quickly, so I am excited that there will be more titles in the Science Comics series. We plan to add them all to our collection as they are published, and I imagine they will continue to circulate while we partner with the 8th grade science class in the future.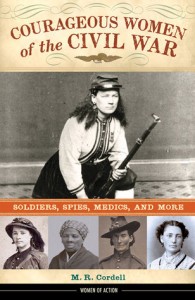 Cordell, M.R. Courageous Women of the Civil War. Chicago: Chicago Review Press, 2016. 978-1-61373-200-7. $19.99. 230p. Gr. 7-12.
The often overlooked contributions that women made to the Civil War effort are the focus of this engaging title. Cordell profiles 16 Union and Confederate women who defied the expectations of the times and left their homes to become actively involved in the war. Some picked up arms, disguised themselves as men and joined up as soldiers. Other women served as spies, as nurses or as vivandieres (women attached to military units as sutlers and canteen bearers). The text is enhanced by sidebars that explain various aspects of the war. Also of note are the numerous historical photos, including photos showing many of the female soldiers in their male soldier disguises. THOUGHTS: This engaging title will appeal to all students, not just Civil War aficionados. The women profile led fascinating and action-packed lives and readers will find themselves drawn into their stories. The role of women in the war is not always discussed in history texts; this book helps to fill this void. Recommended for purchase in secondary schools.
973.7; Civil War       Elizabeth Henry, Lampeter-Strasburg HS/MS