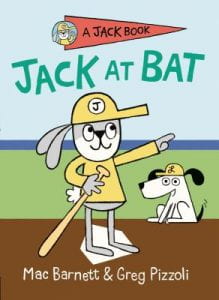 Barnett, Mac, and Greg Pizzoli. Jack at Bat. Viking, 2020. 978-0-593-11382-0. Unpaged. $9.99. Grades K-2.
—. Jack Goes West. Viking, 2020. 978-0-593-11388-2. Unpaged. $9.99. Grades K-2.
Jack is a bunny with mixed behavior! Sometimes he is bad and selfish, and sometimes he is the hero. One thing is for sure: A Jack Book will be an unpredictable and fun beginning reader story! With clever words by Mac Barnett and emotive illustrations from Greg Pizzoli, readers will delight to visit and revisit this new series. In Jack Goes West, he and "The Lady" ride a train to a dude ranch… next to a bank. Some bandits, lassos, and mistaken identities ensue! Meanwhile, in Jack at Bat, The Ladies take on The Brats in a ballgame that sees Jack get yelled at, nap away the game, and chase down a snack. But can he hit the ball? With a readable layout, short sentences, and surprising plot twists, young readers are bound to become fans of Jack.
THOUGHTS: These are longer than some beginning readers, which provides a nice extended read aloud opportunity or encouragement for budding readers. Introducing this series will naturally draw students to discover the other fun and fascinating work of Barnett and Pizzoli. Recommended for K-2.
Picture Book          Dustin Brackbill, State College Area SD