Compestine, Ying Chang, The Chinese Emperor's New Clothes. Abrams Books for Young Readers, 2017. 978-1-4197-2542-5. 32pp. $17.99. Gr K-3.
This variation on the traditional Hans Christian Anderson tale of the Emperor's New Clothes features nine-year-old boy emperor Ming Da. Ming Da's corrupt advisors think he is too young to rule, so they take advantage of him, stealing silks, rice, jewels, and gold. When he looks outside the palace windows, Ming Da sees poor, hungry children begging in the streets. He longs to help them, but it isn't until his tailors come with his new robes for the Chinese New Year parade that Ming Da hatches his plan. Instead of wearing the ornate robes they initially present, Ming Da enlists the tailors' help in sewing together old rice sacks decorated with vegetable juices. When he appears in front of his advisors wearing these sacks, he explains that they are magical and that only honest people will be able to see their true splendor. Wanting to mask their corruption, the advisors gush about the rice sacks and agree to have the tailors design magical robes for them as well. One by one, the advisors try on their new robes, and they each want to look more splendid than the others. They bring back the silks, rice, jewels, and gold to finance the creation of the supposedly elaborate robes. Ming Da uses the rice, silks, and gold to feed and dress the poor, and on the morning of the New Year's Day parade, the advisors march behind the young emperor wearing their own rice sack robes. Amongst themselves, they keep up the charade of complementing each other on the clothing's splendor, but a young boy in the crowd points and laughs at their rice sacks, and the embarrassed advisors flee the country. Ming Da replaces them with honest ministers and rules wisely and fairly for many years. David Roberts's vibrant pen and ink and watercolor illustrations feature intricate details such as Chinese scrolls and latticework, and the ornate details pop against plain white backgrounds. Careful readers will also enjoy searching for the emperor's pet cricket and mouse who appear in almost every spread. A note on the final pages describes the author's personal history with this fairytale and her childhood in China that inspired this retelling.  THOUGHTS:  This retelling will fit nicely with fairytale units and activities where students compare an original fairytale and a variation. Also use it for Chinese New Year celebrations and storytimes.
Picture Book    Anne Bozievich, Southern York County SD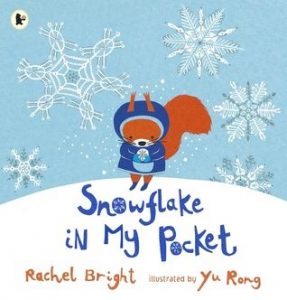 Bright, Rachel. Snowflake in My Pocket. Kane Miller, A Division of EDC Publishing: 2017. 978-1-61067-551-2. 32pp. $12.99. Gr K-2.
This is the gentle story of a wise old bear who has seen many seasons and a young squirrel who has seen only three. Together, the pair explore every corner of their forest home, and one night, Bear declares that the snow is on its way. Squirrel has never seen snow before, and he is overjoyed when he sees a wintery wonderland outside his tree the next morning. He can't wait to play outside with Bear, but Bear has come down with a cold and must rest in bed. Squirrel promises to have fun for both of them and heads outside for a day of rolling, making snow angels, and building snow bears. Even though Squirrel has fun, he still misses his friend and decides to catch a snowflake to take home to Bear. He finds the perfect one, puts it in his pocket, and heads home. But, when he tries to show Bear the snowflake, there is nothing in his pocket. Bear tenderly explains that snow comes and goes, but other things, like their love for one another, last forever. Snowy scenes pop in Yu Rong's papercut art, and her detailed illustrations ensure children will notice subtle details with each repeated reading. THOUGHTS: This title is perfect for snowy storytimes, and it could also be used to jumpstart discussions of students' favorite snowy day activities. Pair this with Ezra Jack Keats's The Snowy Day.
Picture Book     Anne Bozievich, Southern York County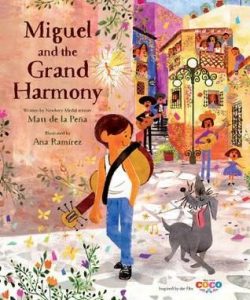 De la Pena, Matt.  Miguel and the Grand Harmony.  Disney Press, 2017. 978148478149. Unpaged. $17.99.  Gr. K-4.
This beautifully crafted book tells the story of a boy called Miguel who lives in a Mexican village and yearns to play music.  Inspired by the Disney Pixar film Coco, it is told in first person by the muse of music called La Música, who is depicted as a fairy by illustrator Ana Ramírez, an artist at the Pixar studios. De la Pena begins this story by telling the reader how music shapes and is a part of people's lives in a wedding, quinceañera or a funeral and keeps "gray at bay."  Músicos play in the village, where we meet the boy watching the musicians, but who are shooed away by his abuelita who states that their music will upset "Madame Coco," an old woman in a wheelchair.  Unknown to his family, the boy has an attic room where he "plays" a broomstick guitar to recorded music.  Músicos again perform in the village and the boy is enraptured with the sound. Once again his abuelita chases them away.  The boy finds a guitar and begins to teach himself how to play.  The music he creates appears to bring happiness to Madame Coco as she smiles with delight at the boy's music.  Ramirez's drawings depict a Mexican village and are done in bright colors with lots of details.  On several pages, she has placed vibrantly colored flowers and music notes, which are small in the beginning of the story, but are huge by the end when the boy plays the guitar.  This lavishly illustrated book is a delight to the eyes. De la Pena has created a book that shows us the importance of music in our world and how it colors and brings harmony to our lives.  This book stands alone for the most part, but there are some questions left unanswered that might be answered in the film. Why is the boy's abuelita concerned about the music upsetting Madame Coco?  Who is Madame Coco?  Who is the man that played music to "his little girl"? THOUGHTS: This book will be popular with readers who have seen the film.  It will also be useful for music teachers as a read aloud and will inspire young musicians.  The art in this book may make it a Caldecott contender.  De la Pena's book is a worthwhile purchase and will add diversity to elementary collections.
Picture Book     Denise Medwick, West Allegheny School District