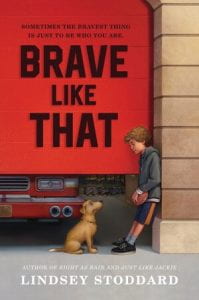 Stoddard, Lindsey. Brave Like That. HarperCollins Publisher , 2020. 978-0-062-87811-3. 272 p. $16.99. Grades 4-7.
Cyrus' dad has always been a hero. As a kid he was a star football player, and as an adult he is a firefighter who is not afraid of running into burning buildings. Everyone thinks Cyrus is following in his father's footsteps, but deep inside Cyrus loves music instead of football and longs to sneak away to the rescue to walk a dog that showed up at the fire station out of the blue, just like Cyrus did eleven years ago. Maybe worse than that, Cyrus wants to ditch his football star friends and befriend the new boy, Eduardo, who is bullied but doesn't waiver from who he truly is inside. Can Cyrus be brave and find the courage to be his true self?  With the help of a stray dog, new friends, and his family, join Cyrus on his journey to be brave and become his authentic self.
THOUGHTS: This story is a must purchase for your middle grade collection. It deals with the topic of bullying in a gentle but firm way. Brave Like That also addresses the issue of ailing grandparents (Cyrus' grandmother had a stroke and cannot speak as she used to) and acceptance.
Realistic Fiction          Krista Fitzpatrick- Waldron Mercy Academy
Tags: bullying, friendship, family, aging grandparents