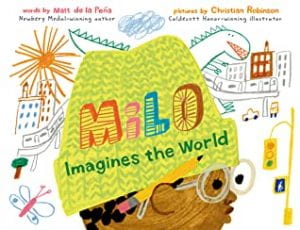 de la Pena, Matt. Milo Imagines the World. G.P. Putnam's Sons, 2021. 978-0-399-54908-3. Unpaged. $18.99. Grades K-3.
While riding the subway with his sister, Milo observes the people around him and imagines their lives outside of the train. Then, he draws pictures of these people going about the lives he has envisioned for them. However, when a well-dressed boy ends up at the same destination as Milo – a correctional facility to visit his mother – Milo begins to reconsider all of the assumptions he made just by looking at people. An eye-opening and thought-provoking story, this book will encourage young readers to look past first impressions and preconceived notions and instead see individuals for who they really are.
THOUGHTS: I love how cleverly and subtly this story conveys the timeless message that one should never judge a book by its cover. Not only is it relatable for children with parents who are incarcerated, but it is an excellent conversation-starter for others who want to understand these children and their families. Art lovers will also love critiquing Milo's drawings–and may even be inspired to create some drawings of their own to portray their individual views of the world. This should be a definite consideration for purchase! 
Picture Book          Julie Ritter, PSLA Member