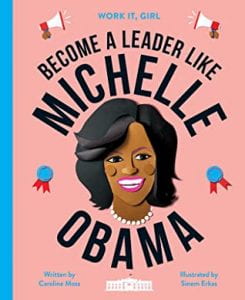 Moss, Caroline. Become a Leader Like Michelle Obama (Work It, Girl). Frances Lincoln Children's Books, 2020. $15.99. 978-0-711-24518-1. 56 p. Grades 3-6.
A beautiful, appealing biography on Michelle Obama. The text details Michelle Obama's life from her early years living with extended family in a tiny Chicago house to her role as First Lady and beyond. Moss's narrative writing is easy to read and really brings Michelle to life but does, of course, take some liberties as readers follow Michelle through her days that include imagined thoughts and conversations. Interesting back matter includes a section called "Become a leader like Michelle! 10 Key Lessons from Michelle Obama's Life" that highlight points like, "Not everyone needs to believe in you if you believe in yourself," and "New friends can help you grow!" along with examples of these points from Michelle's life. There are also questions to check for understanding and resources for further reading. Sinem Erkas's illustrations, done in paper, add color and fun to the book.
THOUGHTS: Young readers will enjoy the narrative writing style and enjoy learning about Michelle Obama.
Biography          Lindsey Long, Lower Dauphin SD