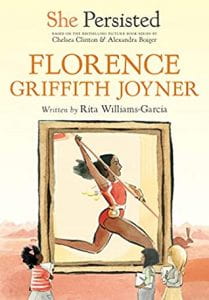 Williams-Garcia, Rita. She Persisted: Florence Griffith Joyner. Philomel. 978-0-593-11596-1. 59 p. $5.99. Grades 2-4. 
This chapter book biography shares the life story of Florence Griffith Joyner who is considered one of the fastest women of all time. In 1988, Flo Jo set two world records that still stand today. Her journey to becoming a five-time Olympic medalist was not an easy one, though. This biography chronicles her childhood growing up as one of eleven children in the low-income neighborhood of Watts, California, racing at UCLA, and training hard in pursuit of her Olympic goals. It also includes details about her unique personal style on and off the track, including nontraditional racing suits and long, colorful fingernails. Through short, fast-paced chapters, readers will get a sense of Flo Jo's dedication, competitive spirit, and commitment to self-expression. Backmatter includes references as well as a section titled "How You Can Persist" which lists ideas such as making healthy choices, engaging in physical activity, expressing your thoughts through journaling or drawing, setting goals, and trying new things. This series was inspired by "She Persisted," written by Chelsea Clinton and Alexandra Boiger. More than a dozen additional chapter book biographies in this series include the stories of women like Harriet Tubman, Claudette Colvin, Maria Tallchief, Oprah Winfrey, Nellie Bly, and others. 
THOUGHTS: This biography will hook young readers and inspire them to work hard in pursuit of their own dreams. The narrative nonfiction writing style also makes this a good choice for classroom read-alouds. Share this title with fans of the "Who Was?" biography series. 
Biography          Anne Bozievich, Southern York County SD