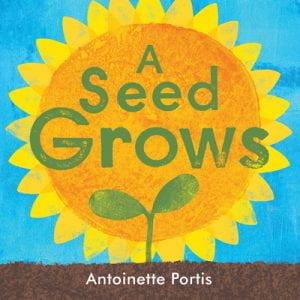 Portis, Antoinette. A Seed Grows. Neal Porter Books. 978-0-8234-4892-0. 32 p. $18.99. Grades K-3. 
This minimalist circle story recounts the life cycle of a sunflower for the youngest scientists. The title page features a bird with a sunflower seed in its beak. The seed falls onto the soil where the sun shines on it, and the rain waters it. It sprouts, breaks through the soil, and continues growing and growing, forming a bud, then a flower. The flower eventually fills with seeds which drop to the ground where a flock of birds finds them, completing the circle. Backmatter includes information about the parts of a seed, the parts of a sunflower plant, and additional information about what seeds need to sprout and thrive. Most double-page spreads feature a few words of text on the left side and a vibrant full-bleed illustration on the opposite page. The bright, oversize illustrations were created using different printmaking techniques, and their uncluttered simplicity reflects the beauty of the seed's change and growth.
THOUGHTS: This will be a useful addition to primary grade units about flowers and plant life cycles. The beautiful illustrations will grab readers' attention, and the sparse text will help emergent readers build confidence and reading fluency.
575.6 Plants          Anne Bozievich, Southern York County SD