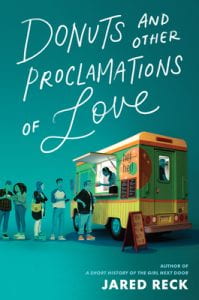 Reck, Jared. Donuts and Other Proclamations of Love. Alfred A. Knopf, 2021. 978-1-524-71611-0. 306 p. $17.99. Grades 7-10.
Oscar Olsson knows exactly what he wants to do with his life after high school: work on his family's food truck, Hej Hej!, with his Swedish grandfather and longtime guardian, "Farfar." In fact, the sooner that future arrives, the better. He views senior year as a series of endless hoops to jump through, though he does enjoy his independent study in the culinary lab. Unfortunately, Oscar gets roped into a cafeteria food waste reduction project spearheaded by Ivy League hopeful Mary Louise Messinger, a.k.a. Lou. Hundreds of rescued apples, batches of cider, and trays of crisp later, laser-focused Lou has worked her way onto the food truck and into Oscar and Farfar's lives … and maybe into Oscar's heart? But an overheard comment reminds him that Lou thinks he is beneath her, a loser with no serious plans for his future. Hints dropped throughout the narrative cue readers to an upcoming wrench in Oscar's plans, possibly a tragic one, and when the moment arrives it is, indeed, devastating. Jared Reck's pitch-perfect sophomore novel perfectly captures the way that life can be hilarious one moment and heartbreaking the next. Main and supporting characters are well-developed and distinctive, especially the unforgettable Farfar and his beloved cat Koopa, as is the Gettysburg, Pennsylvania, setting.
THOUGHTS: This winning story about food trucks, family, friendship, and first love is fantastic from start to finish.
Realistic Fiction          Amy V. Pickett, Ridley SD