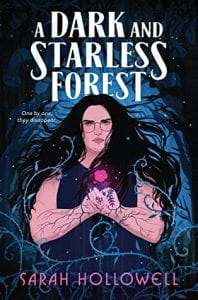 Hollowell, Sarah. A Dark and Starless Forest. Clarion Books, 2021. 978-0358424413. $19.99. 368 p. Grades 9-12.
"The flowers that grow from my magic are usually indistinct little things, but those flowers – I knew those flowers. They were mandrake flowers. In legend, mandrakes grow where the blood falls under a gallows." Derry and her adopted siblings all have one thing in common: they all have magical abilities. Abandoned by their families, the girls live with their caretaker, Frank. In addition to caring for the girls, he teaches them to use their magic and protects them from the dangers of the outside world. He prefers to call them alchemists rather than witches, and over the years, the girls have bonded and consider themselves a family. When Jane, the oldest, disappears, Derry knows she didn't run away. Desperate to find her, Derry ventures into the dark forest that surrounds their isolated cabin looking for answers. Each night, she's drawn to the forest, and while her magic begins to grow, darkness takes root within her and she soon discovers that nothing is what it seems. As more of her sisters go missing, protecting her family becomes her most important priority, and she soon realizes that the forest may not be the dangerous presence lurking in the shadows of her life.
THOUGHTS: This is a fantasy novel unlike any that I've read before, and by the end, it felt a bit like a horror movie. One of the book's best features is the diversity and representation among the main characters including sexual orientation, gender identities, race, mental health, body image, and even deafness. Although the book is fantasy, it covers a lot of real world issues like abuse, neglect, and grooming but leaves romance out of the plot. The mystery of the forest and the disappearance of the girls will keep readers hooked and intrigued until the very end.
Fantasy          Emily Hoffman, Conestoga Valley SD