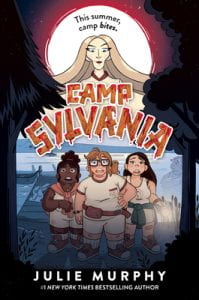 Murphy, Julie. Camp Sylvania. Balzer + Bray, 2023. 978-0-063-11402-9. 280 p. $18.99. Grades 3-6.
Magnolia "Maggie" Hagen has been waiting for years to attend Camp Rising Star with her best friend, Nora. They've just finished their fifth grade year and are ready to start packing, but Maggie's parents have an unwelcome surprise in store: Maggie will attend Camp Sylvania instead. Camp Sylvania's website promises a "place for big dreams, big fun, and big weight loss." Maggie is horrified that her parents are sending her to "fat camp" on the Lake of the Ozarks, and without her best friend. Maggie's mom knows the founder, Sylvia Sylvania, from her own days at a similar camp called New Beginnings, and believes that losing weight is truly in Maggie's best interest. Although Maggie initially resents being sent to Camp Sylvania, she makes fast friends with her bunkmates and soon enjoys a sense of belonging, even auditioning for the camp's musical. She adjusts to the camp's grueling workouts, Sylia's patented Scarlet Diet (the cafeteria only serves food that is red), and a blood bank where all campers are encouraged to donate regularly. But when campers begin disappearing overnight, Maggie realizes that something is very wrong at Camp Sylvania. By the time her folks arrive for Parents' Day, it may be too late, unless Maggie and her friends take drastic action (with a little help from the camp ghost).
THOUGHTS: Julie Murphy's latest is both a spirited summer camp horror novel and a keen take-down of diet culture. 
Mystery (Horror)