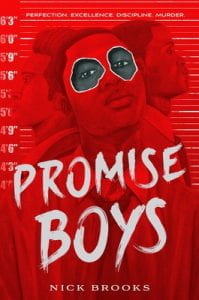 Brooks, Nick. Promise Boys. Henry Holt and Company, 2023. 978-1-250-86697-4. 294 p. $19.99. Grades 9-12.
J.B., Ramón, and Trey are students at the Urban Promise Prep School in Washington, DC. They do their best to follow the ultra-strict rules established by their principal as part of his "Moore Method." But when Principal Moore is murdered, each of the three boys (who were all in detention and adjacent to the crime scene that day) become suspects. Although they do not trust each other at first, they soon realize that their best chance at clearing their names is to work together to expose the real killer. Debut author Nick Brooks does a great job of developing each character's unique voice and personality, which is pivotal because the story is told from numerous points of view. Each teen has his own struggles, triumphs, and secrets that play into how they approach the world and each other. In addition to being a propulsive murder mystery, Promise Boys poses some serious questions about the prep school's toxic culture of excellence. 
THOUGHTS: Readers who enjoy books by Jason Reynolds, Angie Thomas, and Karen M. McManus will gravitate to this novel, which is both entertaining and rich with opportunities for deep discussion.
Mystery          
J.B.Williamson, Trey Jackson, and Ramon Zambrano all attend Promise Academy, an all-male charter school in Washington D.C. intended to groom young men of color with its high standards and academic rigor. Its principal and founder, Kenneth Moore, is both slick and tough. The reader meets him as he is unraveling. He rules the school with an iron fist, yielding his power with impossible demands and punitive measures–a far cry from the environment of the school at its inception. The students keep silent in the building; follow straight, blue lines through the hall; and angst over demerits for petty infractions that threaten detention or expulsion. On the afternoon of an important basketball game, the three protagonists find themselves in detention when Principal Moore is mortally shot. All three are suspects for the murder. What follows is an examination from each character's point of view of the events that brought them to that moment and their efforts to exonerate themselves and uncover the real murderer. Though the three are not friends, their common trouble unites them, and they join forces with their friends' support to trace the downfall of a formerly idealistic leader and find his killer. Told in different voices and scenes, Promise Boys depicts cameos of boys of color striving to be their best selves but thwarted by an academic system that degrades and punishes them. Author Nick Brooks tells a compelling story featuring loving families and friends juxtaposed against the pressure of living in a world that deems one guilty before innocent. An important novel for any high school library.
THOUGHTS: This layered story provokes discussion around student voice and justice which keeps readers turning the pages. Both a mystery and a commentary on black young men in American society, the nature of school and punishment, and greed and corruption, Promise Boys reveals people are not all they seem. It forces the reader to see that each person has complicated workings and what they deal with may not be evident–even to those closest to them. Some curse words, some illegal activity (breaking into the school building), police shown in a negative light,  and an intimation of sex (JB has his first girlfriend, and it is implied they had intercourse.), notwithstanding, this book relates a truthful tale relatable to many eighth grade students as well as upper high school. Weaving in text messages and multiple perspectives of various characters, Brooks's unusual plot engages even reluctant readers. Compare this significant novel with Jason Reynolds's and Brendan Kiely's All American Boys or Kekla Magoon's How It Went Down.
Realistic Fiction