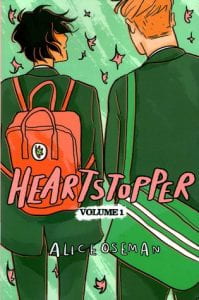 Oseman, Alice. Heartstopper # 1. Graphix, 2020. 978-1-338-61743-6. 288 p. $14.99. Grades 8-12.
Fans of romance and coming of age stories, go no further. Oseman's volume one of the Heartstopper series will do just that: stop your heart. This light take on a young man coming out to his school before he was really ready, dives into male friendships and more within a school setting. The story is set in England and revolves around a rugby team so there is slang that might be lost on some readers. This is a great story of male friendship that broadens into something more. Although school isn't always a safe place, Oseman reminds us that there are people to be safe with. It's important to note that this is a story revolving around gay high school students and that includes the abuse, both physical and verbal that still occurs, especially for individuals who are trying to figure themselves out. Oseman leaves the reader hanging and ready for volume two.
THOUGHTS: This is a great addition to high school libraries who are looking to make their graphic novel collection more realistic. In addition, this is a great mirror into the thoughts and feelings adolescents may have while discovering their sexual preferences and navigating the rough seas of high school.
Graphic Novel          Samantha Hull, Ephrata Area SD