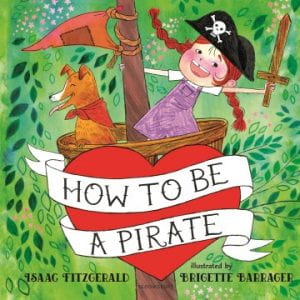 Fitzgerald, Isaac. How to Be a Pirate. Bloomsbury Children's Books, 2020. 978-1-681-19778-4. Unpaged. $17.99. Grades K-3.
On the first endpages, freckle-faced and pigtailed Cece is told she can't be a pirate. Muted colors reflect her mood as she visits her grandfather who she suspects might know a thing or two about pirates. As it turns out, Grandpa's tattoos show Cece characteristics of a good pirate. She must be brave, be quick, have fun, be independent, and have love. With each character trait, Cece and Grandpa go on and adventure, and the story becomes more lively and colorful. With a new awareness of what it takes to be what she wants, Cece returns to the boys and their pirate treehouse – now full of confidence that she has exactly what it takes to be a pirate.
THOUGHTS: This adventurous story shows children that fitting a role is about more than what one may assume. Breaking down gender stereotypes in an age appropriate way, Fitzgerald's How to Be a Pirate is sure to be a much loved addition to any elementary library.
Picture Book          Maryalice Bond, South Middleton SD