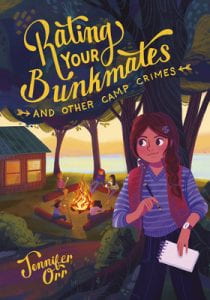 Orr, Jennifer. Rating Your Bunkmates and Other Camp Crimes. Capstone Editions, 2020. 978-1-68446-077-9. 239 p. $16.95. Grades 3-6.
Abigail Hensley is a twelve-year old genius who knows a lot about everything – anthropology, criminal trials, even the French language. Skipping two grades in school means she knows a lot more than other girls her age. Abigail also knows herself – she doesn't like others intruding on her personal space and she has a definite aversion to germs. The one topic Abigail doesn't know much about is how to make real friends. All of that is going to change, however, when she arrives at Camp Hollyhock, determined to make a real friend for the first time in her life. Like any good anthropologist, Abigail uses scientific research methods and writes detailed notes as she studies her cabinmates for their sidekick potential. Although her observations are off to a good start, she is thrown off from her meticulous plans when a crime is committed in her own cabin – and she becomes the prime suspect. Abigail has to use her research methods and observations so she can clear her name and hopefully make a friend before her time at camp is done, even if the answers she seeks may be the opposite of what she thinks.
THOUGHTS: Although author Jennifer Orr doesn't make it clear in the book, Abigail could be on the autism spectrum, which is evident as she hates invasion of her personal space and struggles to understand social norms. However, Abigail's journey to make a friend can ring true for any middle grade reader, genius or not. Her scientific commentary on the nuances of young female friendships are humorous yet relatable. All readers can understand that friendship may not be an exact science, but when the elements align, it can be quite wonderful.
Mystery Fiction          Danielle Corrao, Ephrata Area SD