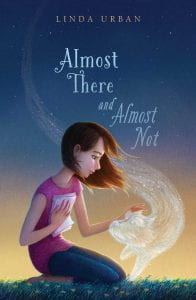 Urban, Linda. Almost There and Almost Not. Atheneum Books for Young Readers, 2021. 978-1-534-47880-0. 211 p. $17.99. Grades 5-7.
Eleven year old California Poppy doesn't know if she is coming or going. Her widowed father is heading to Alaska for a salmon fishing job and takes her to Minnesota to stay with Aunt Isabelle, who should know more about taking care of a "bra needing" child than he does. It turns out that Aunt Isabelle is not really the nurturing type and is too busy working on a meatloaf recipe for the Great Meatloaf Bake Off. So California finds herself traveling to Michigan to live with Great Aunt Monica. Her great aunt, still grieving for her late husband, broke her hand and needs help with her research on Eleanor Fontaine, an author of etiquette books from the 1920s. Aunt Monica wants to complete her husband's planned biography of his author-ancestor and asks California to read Fontaine's Proper Letters for Ladies and to practice writing letters to become familiar with the author. Callie soon realizes that there are two ghosts in the house: a dog who enjoys playing with her and a refined lady named Eleanor, who dissolves into a pile of dust when she gets upset. Aunt Monica is not aware of these guests, so her niece takes care when talking to them. Eleanor begins to share her story with the young girl, who notices that the ghost seems to be getting younger each time she appears.  California soon learns the truth about her father's whereabouts and Eleanor's secret. Just as Callie feels she has come to terms with her father's absence, her struggles in school and having periods, she overhears a conversation that changes her life forever.
THOUGHTS: Urban has written a very engaging story about loss, grief, and resilience. Although the text is not lengthy, a lot happens and one cannot help but root for the likeable main character who narrates the story. Readers will enjoy California's letters to Aunt Isabelle, her father, and the Playtex Company. This sensitive but humorous tale is a solid choice for upper elementary and middle school collections.
Fantasy          Denise Medwick, Retired, PSLA Member