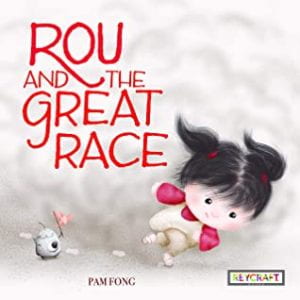 Fong, Pam. Rou and the Great Race. Reycraft Books, 2020. $17.95. 978-1-478-86952-8. Unpaged. Grades K-2. 
Rou and her grandma walk the streets of their brown and gray city, surrounded by tall buildings, metal trees, and passersby with robot pets. Grandma remembers a time when the city was alive and flowers beautified the gray surroundings but with growth came Power People who collected all the flowers for themselves. Now, children compete for a single flower in the annual Great Race. Rou is determined to win the flower for her grandma, but when she comes in last all she finds is a sad little stem with petals strewn about. Rou collects the stem, takes it home, and nurtures it into an entire garden which she shares annually at the Great Share. Fong uses colors to show the stark contrast between lively Rou, always clad in red like the flowers she grows, and the depressing brown city. Children will take away a story of kindness, both the lack of it from the Power People and the abundance shown by Rou and Grandma as they give away their flowers. Adult readers will see a more cautionary tale about power, city development, and greed mixed with Rou's kindness.
THOUGHTS: An unusual but likeable story; readers will root for Rou.
Picture book                    Lindsey Long, Lower Dauphin SD