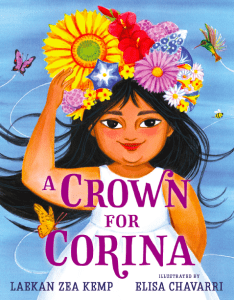 Kemp, Laekan Zea. A Crown for Corina. Elisa Chavarri. Little, Brown and Company, 2023. 978-0-7595-5684-3. Unpaged. $18.99. Grades K-3.
In A Crown for Corina, it's Corina's birthday and she gets to create a flower crown out of the beautiful flowers found within her abuela's garden. As she goes through and picks her flowers, she learns from her grandmother all the different things the flowers mean. Each one has a special meaning either for her family or for Corina personally. Once Corina picks all of her flowers, she wears her flower crown for her party and doesn't want to take it off, even during her bedtime routine. She notices the flower petals are starting to droop, and her abuela tells her why that is. As Corina goes to sleep, she thinks about all the other birthdays and flower crowns she will get to have.
THOUGHTS: This was such a sweet story! Highly recommended for any elementary collection, as the story and the illustrations both are beautiful.
Picture Book