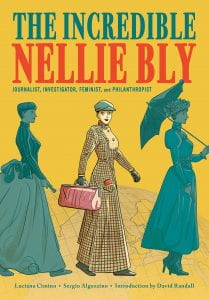 Cimino, Luciana, and Sergio Algozzino, illustrator. Laura Garofalo, translator. The Incredible Nellie Bly: Journalist, Investigator, Feminist, and Philanthropist. Abrams ComicArts, 2021. 978-1-419-75017-5. 137 p. $24.99. Gr. 8+.
The subtitle of this wonderful graphic biography of Nellie Bly lets readers know that they are about to learn the life story of a true trailblazer! Nellie Bly is maybe most famous for going undercover in 1887 at an asylum for mentally ill women, exposing the horrible treatment patients received there. Her 1889 trip around the world in just seventy-two days is also very well-documented. Within the frame of a series of conversations between a female student at Columbia University's Journalism School and an elderly Bly, The Incredible Nellie Bly covers these and her many other impressive accomplishments. Such achievements include reporting "in disguise" from a factory and debunking stereotypes about the "immoral" women workers there, interviewing Belva Ann Lockwood (the United States' first female presidential candidate), and reporting from Europe's Eastern front during World War I. Her trendsetting celebrity, and the inevitable backlash, are also depicted. Sergio Algozzino's digitally created artwork, in appealing shades of yellow and blue as represented on the cover, evokes the times in which Nellie Bly lived and worked.
THOUGHTS: This is a – yes – incredible introduction to the extraordinary life and legacy of a woman who never accepted society's restrictions but was "forever the author of her own destiny" (from the Introduction).
Graphic Biography          Amy V. Pickett, Ridley SD