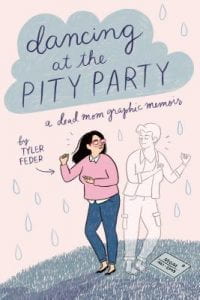 Feder, Tyler. Dancing at the Pity Party: A Dead Mom Graphic Memoir. Dial Books. 2020. 978-0-525-55302-1. 201 p. $18.99. Grades 7+.
During the summer after her freshman year at college, Tyler Feder's mother was diagnosed with ovarian cancer. By spring break of her sophomore year, Rhonda had died. Tyler understandably felt rudderless, "like I was on an iceberg out to sea." Her mom was gone … now what? Chapters tenderly portray the diagnosis, the death, "making arrangements," sitting shiva, and navigating a new normal. Dancing at the Pity Party is every bit as heartbreaking as it sounds, but it is also a little bit celebratory (as the title suggests). Readers will come to know and care for Tyler's mom, because her loving personality is so vividly present on every page, even in her absence.
THOUGHTS: This is a must-read for teens who have experienced a loss, who want to support a grieving friend, or who are struggling and just want to know that someone out there gets it. Readers of Lucy Knisley's introspective graphic memoirs will love this one, too.
Graphic Memoir          Amy V. Pickett, Ridley SD