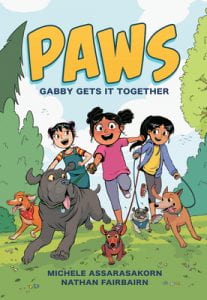 Assarasakorn, Michele, and Nathan Fairbairn. PAWS: Gabby Gets It Together. Razorbill, 2022. 978-0-593-35186-4. 176 pp. $12.99. Gr. 3-6.
Fifth grader Gabby and her best friends, sixth graders Mindy and Priya, absolutely love animals, but none of them can have a pet due to parental preferences, landlord policies, and allergies. Longing for some furry friends in their lives, the three girls form PAWS: Pretty Awesome Walkers, and begin walking a small group of neighborhood dogs. They face a series of obstacles in the process of building their after-school business. Some are humorous – who will pick up the dog poop? should they wear matching uniforms? – while others stem from the girls' different goals for PAWS, varying commitment levels, and lack of communication. Gabby especially feels like she is always out-voted by her slightly older, sometimes bossier friends. All three girls learn from their mistakes and Gabby does, indeed, get it together!
THOUGHTS: PAWS is essentially a Baby-Sitters Club for animal-loving tweens; the next installment, due in November, will focus on Mindy. Sunny artwork, friend and family dynamics, and plenty of adorable pups lend broad appeal to this graphic novel series starter.
Graphic Novel          Amy V. Pickett, Ridley SD