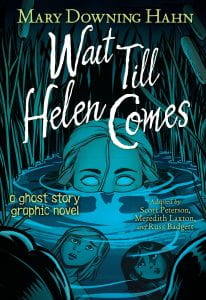 Hahn, Mary Downing, and Scott Peterson, Meredith Laxton, and Russ Badgett. Wait Till Helen Comes: A Ghost Story Graphic Novel. Clarion Books, 2022. 978-0-358-53689-5. 148 p. $12.99. Grades 3-6.
Scott Peterson, Meredith Laxton, and Rudd Badget's adaptation of Mary Downing Hahn's Wait Till Helen Comes, is true to the original story of a blended family who move from the city to a church in the countryside. All is not harmonious in the family–the youngest child, Heather (step sister to older siblings Michael and Molly), continually creates tension by tattling and embellishing stories of her half siblings, successfully manipulating her father and stepmother. The tension only rises when Molly is the only one who can see that Heather has begun communicating with Helen, the ghost child of a family who, like Heather's mother, died in a house fire. The problem is, the ghost child has the reputation of drowning her new friends. Molly has to find a way to get her family to believe in the ghost or save Heather from her fate.
THOUGHTS: This adaptation kept me turning the pages–and I predict it will fly off the shelves into the hands of thrill seekers and reluctant readers alike. The illustration style compliments the ghost story theme, and the adaptors' combination of first person speech and narration successfully moves the story forward. The story is just scary enough to thrill a middle grade audience, and the evolving relationship within the blended family gives the story heart beyond the thrills. 
Graphic Novel          Hannah J. Thomas, Central Bucks SD