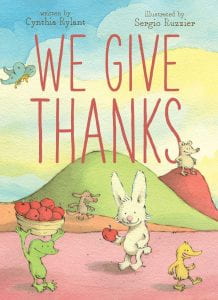 Rylant, Cynthia. We Give Thanks. Beach Lane Books, 2021. Unpaged. 978-1-422-46507-7. Grades PreK-1. $17.99.
Told in rhyming couplets, this story about gratitude is not about the Thanksgiving holiday. Each couplet begins with "We give thanks for" and Frog and Rabbit point out what they appreciate as they walk around the neighborhood. The objects of gratitude run the gamut and appear in no particular order. They include nature, the weather, activities, family, community helpers, and friends. After realizing what they are thankful for, Frog and Rabbit prepare a special feast to share with their friends, who come and partake of the treats before them. The author finishes with this: "Bless our nights and bless our days and bless all those we meet. We give thanks for everything and now it's time to eat." Ruzzier's illustrations done in pen, ink, and watercolors and are whimsical and appealing. Readers will enjoy poring over the drawings for the details. There are some humorous touches such as the Dalmatian as an Italian waiter and Bear's friend, the fish who is often out of water. The pictures help create a warm, cozy atmosphere within this delightful tale.
THOUGHTS: Young children will enjoy listening to this story, which is sure to dish up a little happiness and will have them thinking about what they are thankful for. This book is a good substitute for traditional Thanksgiving stories, especially for those children who do not celebrate holidays. A nice selection for storytimes in any season.
Picture Book          Denise Medwick, Retired, PSLA Member