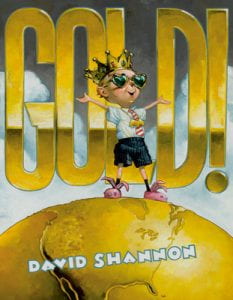 Shannon, David. Gold! Viking, 2022. 978-0-593-35227-4. Unpaged. $18.99. Grades PreK-2.
Unlike other kids his age, Max Midas isn't interested in things like toys and chocolate. Instead, he seeks one thing: gold. Max is ruthless in his quest to gain more gold. He sabotages his neighbor's lemonade stand in order to help his own lemonade stand succeed. He buys his parents a house, but then charges them rent to live there. Eventually, he builds himself a golden castle atop a golden mountain of coins. One day, he decides to eat some gold dust, which causes him to transform into a solid gold statue. Helpless, he watches his neighbors below as they go about their business, mingling with one another. As he realizes all of the things he'll have to miss out on now, a tear slips out. Will Max return to normal, or will he remain a statue, forever regretting the error of his ways? This modern retelling of the King Midas myth will have children questioning whether riches really matter or not.
THOUGHTS: I love the last line of the story: "Gold can never make you feel… As good as being nice." Spreading kindness is a popular theme in children's books but an important message nonetheless. This book, with its rhyming text and cartoonish illustrations, would make a great read aloud. It also could be used in the classroom to introduce the subject of Greek mythology.
Picture Book          Julie Ritter, PSLA Member