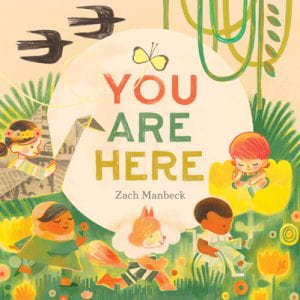 Manbeck, Zach. You Are Here. Chronicle, 2022. 978-1-797-21010-0. 32 p. $16.99. Grades PK-1.
You Are Here encourages readers to explore their possibilities through illustrated free verse. The beginning statement, "YOU are here," is followed by "you can go anywhere!" Faced with the question, "But how will you find your way?" the author encourages readers to begin, explore, take their time, fall down, keep going, and more. Each encouragement is expanded upon with text and/or illustrations that support the reader's understanding. The book ends by reassuring readers that "… Today you are HERE!"  "Exactly where you are meant to be."  
THOUGHTS: Although marketed for PK-1 readers, You Are Here will find a much broader audience in classrooms and bookshelves of anyone seeking encouragement to stretch their wings and try something new. The author's sunny palette of oranges, yellows, and bright greens reflect the optimism of the text, and the main character is supported by an inclusive cast that is both realistic and fanciful. Careful details, including a yellow butterfly that follows the narrator on his journey through the book, emerge and will encourage rereading. This warm, accessible text is highly recommended for SEL collections and beyond!
Picture Book          Hannah J. Thomas, Central Bucks SD