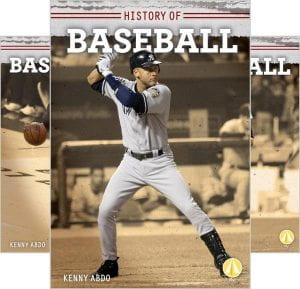 Abdo, Kenny. History of Sports. ABDO Books, 2020. $20.00 ea. $120.00 set of 6.  24 p. Grades K-3. 
History of Basketball. 978-1-532-12738-0.
History of Baseball.  978-1-532-12737-3.
History of Football. 978-1-532-12739-7.
History of Golf. 978-1-532-12740-3.
History of Gymnastics.  978-1-532-12741-0.
History of Soccer 978-1-532-12742-7.
History of Baseball gives a brief history of baseball, from the beginning to current times. The game of baseball is briefly explained; however, it is not an in depth explanation. There is a table of contents, glossary, and an index, as well as a page with a QR code that can be scanned for additional information. There are several full color photos found within the book  to demonstrate the different aspects of baseball that are being discussed.
THOUGHTS: This is a great introductory resource to help students learn how to use nonfiction books. This will definitely help any student who is not familiar with baseball to do research; however, it is extremely simple at times. Overall, this is a nice addition to an elementary nonfiction collection but not necessary.
796 Sports          Mary Hyson, Lehigh Valley Charter Academy