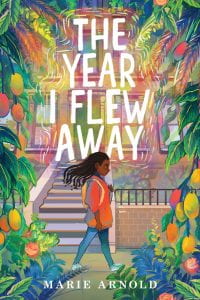 Arnold, Marie. The Year I Flew Away. Versify, 2021. 978-0-358-27275-5. 285 p. $16.99. Grades 5-8.
Marie Arnold establishes herself as a gifted storyteller, weaving realistic setting with a magical tale involving a talking rat, wishes, and witches. Ten-year-old Gabrielle Jean's Haitian family sends her to live with her uncle and aunt in Flatbush, a busy neighborhood in Brooklyn, New York, until they can save enough funds to join her. She looks forward to the American Dream, but it doesn't take long before it is shattered. Classmates make fun of her accent; she feels strange and left out. Though Carmen, a Mexican-American girl, is anxious to be her friend, Gabrielle still feels incredibly lonely and unmoored from her friends and immediate family in Haiti. These bleak feelings motivate her to make a deal with the witch, Lady Lydia, in Prospect Park. Lady Lydia gives Gabrielle three magic mango slices. Each one represents a wish; each wish granted brings Gabrielle closer to Lady Lydia capturing her essence. With the first mango slice, Gabrielle loses her accent, making her better understood and accepted by the other students. The second mango slice is even more powerful. After eating it, Gabrielle not only erases her memories of Haiti but also entails the added consequence of losing her entire Flatbush family. Seemingly, Gabrielle's wishes have been fulfilled. Her classmates believe they have known Gabrielle forever and believe she was born in America, but, of course, she cannot be happy without her aunt, uncle, the toddler twins, and teen-age cousin. It troubles her that she can no longer communicate in Haitian Creole. Rocky, a rat Gabrielle encounters on the street, nicely translates for her and helps Gabrielle problem solve how she will outwit Lady Lydia (though Rocky has its own unfulfilled wish to be a rabbit). As the school looks forward to Culture Day, Gabrielle tries to resist the last mango and still save her family. She knows she needs the help of a good witch to counteract this bad witch who desires a homogenous Brooklyn where perfection is everyone is the same. Arnold whips up a twenty-first century fairy tale to bring the story to a satisfying conclusion that blends American patriotism, pride in and acceptance of differences, and appreciation of one's heritage.
THOUGHTS: If Kate DiCamillo is an author who demonstrates the beauty of language, then Marie Arnold is an author who demonstrates the beauty of storytelling. Accessible, genuine, and creative, Ms. Arnold weaves an unusual tale (sometimes I had to stretch my believability especially when Gabrielle cozies up to vermin who wishes to be a rabbit) that builds to a crescendo of patriotism, pride in one's culture and heritage. Realistically, most sixth grade students may not have the ability to wax eloquently about their backgrounds, yet Arnold has Gabrielle come to the realization that a person can be an immigrant loyal to the country of one's birth and equally be an American, loyal to a new country. An added bonus is the character of Mrs. Bartell, the solicitous school librarian who happens to be Haitian-American and helps Gabrielle every step of the way.
Fantasy          Bernadette Cooke, School District of Philadelphia
Magic Realism