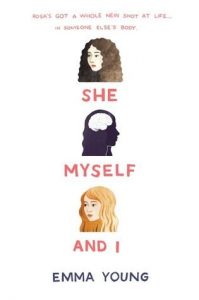 Young, Emma. She, Myself, and I. Amulet Books, 2017. 978-1-4197-2570-8. 336 p. $17.99. Gr. 9 and up.
Paralyzed and slowly dying from a degenerative disease, 18-year-old Rosa longs for a normal life.  Brain-dead after an accident while trying to help a friend, 18-year-old Sylvia's family is left with no hope of her ever regaining consciousness.  Their young lives are about to intertwine in ways never thought scientifically possible.  A brain transplant will give Rosa a new body and Sylvia the legacy of a lifetime.  The physical recovery will be long and difficult for both Rosa and her family as well as Sylvia's parents and friends.  As Rosa learns how to live in her new body, she becomes deeply preoccupied with the person whose tragedy that gave her the ability to walk again.  She needs to know who Sylvia was before the accident, whether a part of Sylvia still lives on in her, and if she will ever feel like "herself" again when she looks in a mirror and sees someone else's face.  THOUGHTS:  A dying quadriplegic teenage girl is given the chance of a lifetime — to wake up in a new body with a new future.  How does she compromise who she used to be with who she is now?  What does she, and everyone around her, see when her face is no longer her own?  While the situation itself might seem unrealistic, medical technology is rapidly advancing and brain transplantation might not be far from the horizon.  Technology aside, the existentialism of Rosa's situation and the ripple effect on Rosa's and Sylvia's families and friends are not often seen in YA literature and will resonate with teens as they embark on their own journey of discovery.
Realistic Fiction      Sandra Reilly, Pleasant Valley School District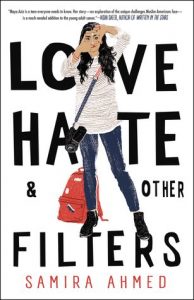 Ahmed, Samira. Love, Hate & Other Filters. Soho Teen, 2018. 978-1-6169-5847-3. 288 p. $18.99. Gr. 8 and up.
Maya Aziz is torn between being the typical American high school senior and being the traditional Indian girl her parents wish for her to be. Maya's parents emigrated to the U.S. with dreams; dreams that included for their daughter to have a future as a successful lawyer with a Muslim husband.  But Maya's dreams are not her parents dreams.  She loves to make movies and has a crush on the star football player.  She is beyond excited yet also scared that she's been accepted to NYU with a note saying they think her films "show promise", and the star football player just might be interested in her, too.  As Maya frets over decisions that will shape her future, a terrorist attack at the state capital threatens to take it all away from her.  In the aftermath, Maya and her family must learn how to compromise their dreams with our nation's reality.  THOUGHTS:  In sharing the story of 18-year-old Maya, born in America to parents that emigrated from India to a small Illinois town, Samira Ahmed has captured what it means to be anyone who is of Middle Eastern descent in the United States.  Ignorance and false information continues to feed racism in our country.  There are far too many Americans who conveniently forget that, unless they are American Indian, we ALL come from a long line of immigrants who were given a chance to build their own version of the American dream.  Ahmed also turns the spotlight on the issue of fear and anger stemming from the refusal to accept others as they are, particularly when the actions of one cast a suspicious net on others, and especially when religion is involved.  Oftentimes, people act out of ignorance and anger, not considering the lasting effects on all those around them.  The addition of an anonymous secondary narrator will make readers question their own preconceptions as the story weaves to its conclusion.  I would rank Love, Hate, & Other Filters right up there with Angie Thomas' The Hate U Give and should be on every high school reading list.
Realistic Fiction     Sandra Reilly, Pleasant Valley School District
Zoboi, Ibi. American Street. Balzer+Bray, 2017. 978-0062473042. 326 p. $17.99. Gr. 9-12.
American Street is a powerful debut novel, and one that should find its way to every library that serves young adults. Told from the point of view of a recent Haitian immigrant to the United States, the story highlights and expands on many current issues in our world regarding immigration and poverty in urban areas. Fabiola Toussaint travels from Haiti with her mother to live with her mother's sister and her daughters in Detroit, Michigan. Yet, when they arrive in the States, Fabiola's mother is detained by immigration officials and Fabiola is forced to travel on to Detroit alone. When she arrives, she is quick to realize that American life might not be like what she imagined. Her three female cousins are loud and brazen, and her aunt never seems to work or leave the house, situated on American Street in inner-city Detroit. Fabiola is despondent over the loss of her mother and unsure of how to act in this new American life, maintaining her faith in her voodoo practices to seek understanding. A new relationship lightens the story, but Fabiola must soon decide what is more important to her: the chaotic family who brought her to the United States, or a mother whose love has sustained her. This book realistically and honestly describes the immigrant plight, from one poverty-stricken area to another.  THOUGHTS: Highly recommended for high school students as well as adults. This author is one to watch.
Realistic Fiction    Lindsey Myers, Shady Side Academy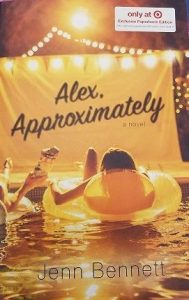 Bennett, Jenn. Alex Approximately. Simon Pulse, 2017. 978-1481478779. 400 p. $17.99. Gr. 9-12.
Bailey Rydell has decided to join her divorced father in California, the other side of the country from her mother and her stepfather, who cannot seem to stop fighting. Not only will Bailey be able to spend time with her father, but she will also be in the same town as "Alex", a boy whom she has been talking with on an online movie-lovers chat room for a long time. Bailey thinks that she and Alex might be perfect together, but she decides not to tell him that she is moving until she can do some detective work and find a little bit more about Alex in the flesh. Bailey is obsessed with old movies and movie stars and is excited when her father gets her a job at a local museum. The first day on the job she butts heads with Porter Roth, the son of a local surf legend and security guard at the museum. Soon, they realize that they each have experienced troubles in their pasts and try to move forward together. Will Alex get in the way of their budding relationship? This sweet story starts out slow, and Bailey can be a bit annoying at times. But, as she grows as a character she evolves into a strong young woman in her own right. The adult characters are numerous and realistic, and add a nice counterpoint to the teen viewpoint. THOUGHTS: Teens will find this novel fun yet introspective, a new-age take on the classic Shop Around the Corner (Bailey would know what this movie is, but I rather doubt most teens would!).
Realistic Fiction     Lindsey Myers, Shady Side