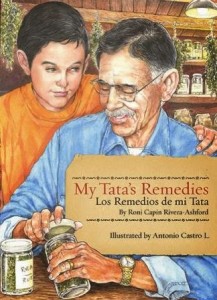 Rivera-Ashford, Roni Capin.  My Tata's Remedies (Los Remedios de mi tata).  El Paso, TX:  Cinco Puntos Press, 2015.  978-1-935955-89-4.  Unpaged.  $8.95.  Gr. 3-6.
Aaron's grandfather heals and helps people with his many plants and herbs.  Throughout the story, Aaron watches and helps his grandfather treat his patients.  This bilingual picture book includes a glossary with a list of medicinal herbs and remedies.
Picture Book/Bilingual     Anastasia Hanneken, School Lane Charter School
This would be a great addition to any library with a Spanish speaking population.  We have several students at my school who speak very little English, and would enjoy this bilingual story.  This book also shows the love and bond between grandparents and grandchildren.