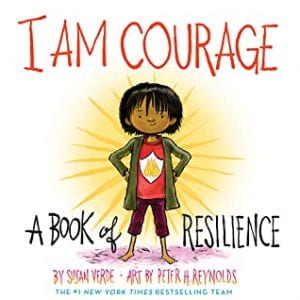 Verde, Susan. I am Courage. Abrams, 2021. 978-0-711-26145-7. p. 32. $14.99. Grades K-2. 
What is courage? Is it speaking out, believing in ourselves, asking for help, trying new things, and getting back up in challenging situations? It also could mean feeling scared yet facing those things that place fear in our hearts. I am Courage, by Susan Verde and illustrated by Peter Reynolds, is a picture book that promotes love and acceptance. The story shows various ways that a person can connect with themselves and others. 
We are strong.
We are capable.
We are important.
We are courage. 
THOUGHTS: I am Courage, the newest addition to Susan Verde and Peter Reynolds I Am series, is a story of empowerment. Readers will be reminded that they can conquer anything and remain strong in their bodies and minds. The yoga and mindfulness exercises at the back of the picture book also will encourage readers to be strong and confident. 
Picture Book          Marie Mengel, Reading SD