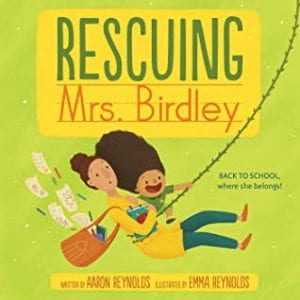 Reynolds, Aaron. Rescuing Mrs. Birdley. Simon and Schuster. 978-1-534-42704-4. 32 p. $17.99. Grades K-3. 
Young Miranda Montgomery is an animal expert. She's learned everything she knows from the Nature Joe Animal Show on television. Nature Joe is a whizz at rescuing animals and returning them to their natural habitats. So, when Miranda spots her teacher at the grocery store – out of the natural habitat of her classroom – she springs into action. Capturing Mrs. Birdley proves to be more challenging than Miranda initially anticipates. The teacher evades a leaf-covered pit and a blueberry yogurt-baited trap before Miranda ultimately captures her and returns her to the classroom where she belongs. After locking Mrs. Birdley in for the weekend, Miranda is feeling pretty proud of herself….until she spots her principal eyeing up lawn mowers at the home improvement store the next day. Vibrant digital artwork, featuring lots of jungle green, brings this story to life while also celebrating Miranda's vivid imagination. 
THOUGHTS: This book will hook students during read-aloud time. Pair it with Peter Brown's My Teacher is a Monster for a story time featuring titles about teachers who do not belong outside their classrooms. 
Picture Book          Anne Bozievich, Southern York County SD