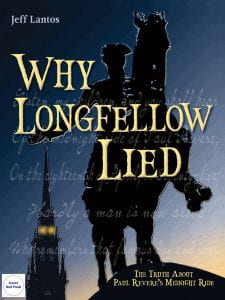 Lantos, Jeff. Why Longfellow Lied: The Truth About Paul Revere's Midnight Ride. Charlesbridge, 2021. 978-1-58089-933-8. 134 p. $18.99. Grades 3-8. 
"Paul Revere's Ride" by Henry Wadsworth Longfellow is one of the most famous poems written by an American poet. Memorized by thousands of children (and adults) since its publication in 1860, the poem popularized Paul Revere and the story of the events on April 18 & 19, 1775, when riders traveled the countryside around Boston to warn citizens that British troops were on the move. While the average reader may accept the poem as fact, in actuality Longfellow took some artistic license in his retelling. Author Jeff Lantos examines the poem stanza by stanza, comparing the text of the poem to primary source accounts of the events. Readers will learn reasons Longfellow strayed from the historical record is his retelling, including the need to maintain pacing in the poem, removing details that might detract from the main storyline, and the need to give the poem a sense of drama. Numerous sidebars highlight historical facts and figures, and the text is enhanced by the inclusion of maps, photographs, paintings, and drawings. 
THOUGHTS: This fantastic title is a combination history lesson and literary analysis. The author is a retired teacher and has an engaging conversational tone that is sure to keep readers turning the page. An excellent choice for casual readers or those researching the events surrounding the beginning of the American Revolution, this title deserves a spot on library shelves.
811 Poetry          Elizabeth Henry, Lampeter-Strasburg SD