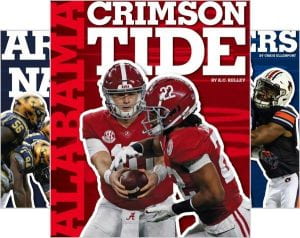 College Football Teams. The Child's World, 2022. $21.95 ea. $ $263.40 set of 12. 24 p. Grades 3-5.
Kelley, K. C. Alabama Crimson Tide. 978-1-503-85031-6.
Kelley, K. C. Army and Navy Football. 978-1-503-85034-7.
Ellenport, Craig. Auburn Tigers. 978-1-503-85041-5.
Kelley, K. C. Clemson Tigers. 978-1-503-85032-3.
Kelley, K. C. LSU Tigers. 978-1-503-85033-0.
Kelley, K. C. Michigan Wolverines. 978-1-503-85035-4.
Gigliotti, Jim. Nebraska Cornhuskers. 978-1-503-85042-2.
Clendening, Cameron. Notre Dame Fighting Irish. 978-1-503-85036-1.
Ellenport, Craig. Ohio State Buckeyes. 978-1-503-85037-8.
Gigliotti, Jim. Oklahoma Sooners. 978-1-503-85038-5.
Kelley, K. C. Texas Longhorns. 978-1-503-85040-8.
Clendening, Cameron. USC Trojans. 978-1-503-85039-2.
This reviewer had the opportunity to review Notre Dame Fighting Irish from this series. This volume combines colorful, often full-page photographs with simple text to support readers as they learn about a popular college football team. Captions that accompany the photos provide additional details and context to the content, and bolded terms can be found in a simple glossary to help readers with unfamiliar vocabulary. Occasional sidebars provide even more interesting details about individual players, coaches, and important games in Notre Dame football history.
THOUGHTS: These books provide a simple overview of each college football team in the series for readers who need reading support but still want interesting content about subjects they love. Clear text, colorful images and text features like sidebars and a glossary for bold-faced terms will help readers gain confidence. These would also be a good springboard for deeper research or a good introduction, but students who need more in-depth details will be left looking for additional information elsewhere; directing students to the "find out more" reading list and links on the Child's World website may be necessary for those needing more details.
796.332 Football          Erin Faulkner, Cumberland Valley SD