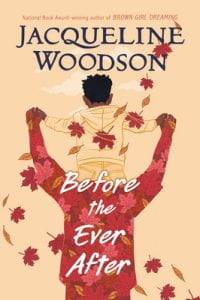 Woodson, Jacqueline. Before the Ever After. Nancy Paulsen Books, 2020. 978-0-399-54543-6. 176 p. $17.99. Grades 5-8.
Known for her powerful verse, Jacqueline Woodson takes on a topic that many fiction pieces haven't touched: chronic traumatic encephalopathy (CTE). Admittedly, as a recent discovery in neuroscience, the condition may not be prevalent in large numbers of readers, but the awareness is beginning to spread. Middle readers who pick up this book, especially young athletes, will likely recognize some of ZJ's dad's symptoms throughout his story as having to do with his professional football career. Although awareness of CTE is important, the story ZJ tells in this book can be applied to any adolescent dealing with change and identity. It begs the question: What is the value of family traditions and memories?
THOUGHTS: Buy this book immediately, and hand it out to all seventh grade football players. In all seriousness, this short verse-novel can be the hook a lot of reluctant readers need into using literature to help explain trauma in their own lives.
Realistic/Verse Novel          Samantha Hull, Ephrata Area SD