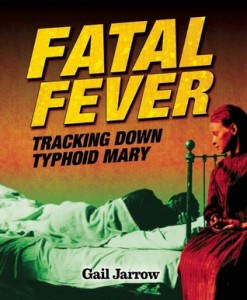 Jarrow, Gail. Fatal Fever: Tracking Down Typhoid Mary. Honesdale, PA:  Calkins Creek, 2015. 978-1-62091-597-4. 176p. $16.95. Gr. 5-12.
Many people have heard of Typhoid Mary but not the whole story, and now with this book, we have a science lesson, a history lesson and a biography.  The reader has to go back in time when cities were making a correlation between poor sanitation and illness, particularly typhoid, a terrible and sometimes deadly disease. Once cities cleaned up the problem, typhoid was on the decline except for some serious outbreaks. Mary Mallon, a cook, was found to have a connection to the spread of typhoid and authorities wanted her so she could be stopped. After her capture, Mary was found to be a healthy carrier. She had never been sick, but examination of her feces found the bacteria thriving. Ultimately Mary was placed in a forced quarantine to protect others.  Overall, she was definitely linked to 47 illnesses and 3 deaths but her whereabouts were unknown at times. Mary died still believing that she was not responsible for making anyone sick. This book has wonderful pictures and graphics to help tell the story of this angry, sad but ultimately dangerous woman. This book was honored with starred reviews from SLJ, Kirkus, Booklist, and Publishers Weekly. It is also the second book of a planned trilogy of books investigating diseases. The first book was Red Madness: How a Medical Mystery Changed What We Eat and the third book Bubonic Panic will be published in 2016.
614.5112; Epidemics         Marian Kohan, Erie School District
Rawl, Paige and Ali Benjamin. Positive: Surviving My Bullies, Finding Hope, and Changing: the World. New York HarperCollins, 2014. 978- 0062342515  272p. $18.99. Gr. 6-12.
 Paige Rawl was born with HIV, and one day in middle school she told her best friend her secret; thus begins the bullying and harassment that led to her homeschooling and suicide attempt. It also led her on a journey of self-discovery and purpose. By the age of 18 she became instrumental in creating anti-bullying legislation in her state. She also became the face and voice of those affected by AIDS/HIV. Today at the age of 20, she continues to advocate for those who are bullied for any reason and for those whose lives are touched by HIV. "My HIV, I realized, had done something for me that I wouldn't have known to do for myself: it had given me a way out. It had taken me out of the smallness of the world I'd started in, and given me a glimpse of something bigger. It had shown me things that were far more meaningful than I might have seen otherwise." Paige's story and her strength to stand up for what is right and good in the world is just what the title says: Positive.
362.196;  Memior     Marian Kohan, Erie School District