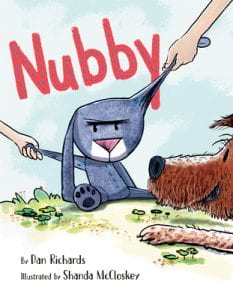 Richards, Dan. Nubby. Alfred A. Knopf, 2023. Illustrated by Shanda McCloskey. 978-0-593-38109-0 Unpaged. $18.99 Grades K-2. 
Nubby has had it. He's a favorite blue stuffed bunny who has seen too many puddles, been used as a tissue too often, and felt unloved with constant mistreatment by his boy. Nubby wants appreciation, and he sets out to find it.  With the help of the family dog, Nubby escapes to adventure and acceptance–perhaps with real rabbits? No, they just ignore him. Perhaps as part of a magic act? No, the act is forgotten when the audience fails to care. Perhaps finding treasure digging with the dog? No, he's left with strewn stuffing, dirtier and alone. Then Nubby thinks back to his boy. "It had been messy and loud and unruly. But it had also been close, and unspoken, and … real." Fortunately, older brother discovers Nubby, mom sews him up, and his boy loves and adores him once again. Only this time, Nubby and his boy appreciate being together far more.
THOUGHTS: This is a sweet book about appreciating what–and who–you have and might make children re-consider their care of their own favorite toys.
Picture Book